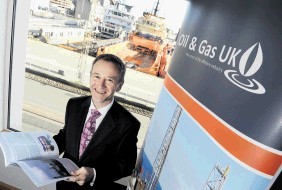 The UK North Sea oil and gas industry has the potential to continue for several decades and its supply chain for even longer, according to a new report.
The 2011 economic outlook from industry body Oil & Gas UK showed investment in the North Sea rose by a fifth to £6billion in 2010, making the oil and gas industry the largest investor among the UK's industrial sectors.
Investment in new projects is on track to increase by a further third to £8billion this year, it said.
Through the supply chain and production, the industry also contributed to more than half of the UK's primary energy demand and some £14.8billion in tax to the Exchequer, it said.
However, the report warned the UK North Sea had become a "two-speed" industry.
It said the level of exploration was looking like it will have dropped by a third this year, compared to last year, despite higher oil prices during the year.
With average new discoveries containing just 20million barrels, yet being more costly to develop and facing the tougher fiscal regime on the industry announced by the UK Government in March, Oil & Gas UK said projects were becoming "fiscally stranded".
Sales of fields to smaller, more nimble operators had also "slowed to a trickle", it said.
Malcolm Webb, chief executive of Oil & Gas UK, said up to 24billion barrels of oil equivalent remain to be produced in British waters and the industry "had the potential to continue for several decades to come and, in the case of the supply chain, much longer".
However, he said: "A heavy tax rate, especially for projects involving additional investment in mature fields, and greater uncertainty over future tax treatment, has not helped the industry's case in proving attractive to international investors."
Mike Tholen, economics and commercial director at the body, said: "The eye-catching projects continue to go ahead, but a range of smaller projects at the edges are struggling to keep going.
"With more fields now producing less, the question is how we keep the industry sustainable in the years ahead.
"We have seen production fall at 6%-7% annually over the decade. If there is enough investment we can slow that down."
To do this, he said they were still working with the UK Government over possible field allowances to make marginal fields more attractive and on the issue of decommissioning costs and liability – both are hoped to be resolved by the 2012 Budget.
According to the report, the fabrication and well services sectors in particular flourished in 2010.
Going into 2011, the trend is likely to continue as firms such as BP work on major developments like its Clair Ridge project west of Shetland, which is being designed to last 40 years.
Around 40billion barrels of oil have already been extracted from UK waters.
One report yesterday claimed that the UK could exhaust its oil and gas reserves in just 17 years, but this has been rejected.
SNP Westminster energy spokesman Mike Weir said there is still as much oil left off UK shores as has already been extracted.
Mr Weir said: "The oil and gas industry continues to be a vital part of our economy and clearly there continues to be a long-term future for the industry, with as much oil left around our shores as has already been extracted.
"Oil and gas will continue to provide a very significant number of direct and indirect jobs for a long time to come."
Alec Carstairs, office managing partner at Ernst & Young in Aberdeen, said: "The report reaffirms the crucial role that the oil and gas industry plays in adding buoyancy to the UK economy but also highlights the negative and far-reaching consequences of applying short-term thinking when setting the fiscal framework for an industry that has to make investment decisions that last for decades".
Facts:
Around £468billion has been spent to date extracting oil and gas from UK waters.
An average of 2.2million barrels a day were produced in 2010 – 90% of the UK's oil demand and 60% of its gas demand.
In 2010, £14billion was spent on exploration, development and operations. This included £6billion on new projects.
About 440,000 people are employed by the industry in the UK – 45% in Scotland, 20% in south east England, 10% in north east England and north west England and 5% in the east of England.
Around £8billion was paid in tax on production in 2010 – one fifth of total corporation tax paid to the Exchequer.
This is expected to rise to £13billion, or a quarter of corporation tax, in 2011-12.