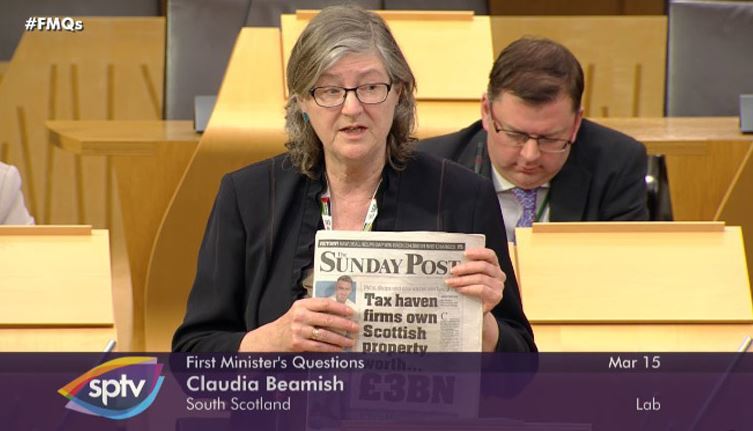 The Scottish Government has been criticised for extending a fracking licence owned by petrochemical giant Ineos.
Ministers have decided to extend Petroleum Exploration and Development Licence (PEDL) 162 for a year until June 2019 despite an effective ban on the controversial gas extraction technique.
The licence, jointly owned by Ineos and Reach Oil and Gas, covers an area of 400 km2 to the south west of Falkirk in the central belt.
Friends of the Earth Scotland said the move added to "confusion" surrounding the government's position on fracking while Scottish Labour branded it a "shambles".
Last month Ineos and Reach lost a legal challenge seeking a review of the government's decision to effectively ban fracking development in Scotland, which they argued was unlawful.
Refusing the challenge at the Court of Session, Lord Pentland found that while while ministers had described the position as a ban, there was in fact no legally enforceable prohibition.
Friends of the Earth Scotland's head of campaigns Mary Church said the decision to extend the licence was "disappointing".
She said: "Extending this licence risks adding to the confusion caused by Ineos's recent legal challenge and only increases the pressure on the Scottish Government to move forward with its decision-making process, legislate to ban fracking and draw a line under this issue for good.
"The operators have already had one extension to this licence and despite having consents in place before the moratorium on fracking, they hadn't fulfilled their drilling commitments, so clearly this licence should have been revoked.
"While it is unlikely that the operators will be able to do much in terms of advancing their shale gas ambitions in 12 months, it is an uncomfortable position for the Scottish Government to take given its opposition to fracking."
Labour environment spokeswoman Claudia Beamish called for an urgent review of the decision.
"This is a deeply concerning development," she said.
"The SNP's position on fracking has been exposed as a complete shambles – firstly claiming it was banned before having to quickly backtrack in the courts.
"Now we learn ministers are extending the licence for extensive fracking in the central belt while finalising business and environmental assessments.
"That is unacceptable and sends completely the wrong message to concerned communities and to clean renewables companies about the future intentions of the Scottish Government on fracking."
Liberal Democrat MSP Alex Cole-Hamilton said the government's position was "erratic and nonsensical".
"Extending Ineos' licence in Falkirk sits at odds with their resolute anti-fracking rhetoric," he said.