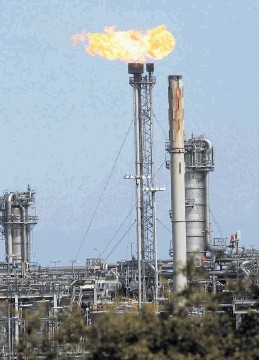 OIL giant Shell has been accused of jeopardising safety at a north-east gas plant after it emerged that more than 80 repair and maintenance posts could go at the site.
The row erupted on the day a senior MP vowed to raise fresh concerns with Scottish Secretary Michael Moore about safety and "union bashing" in the North Sea offshore industry. Shell's contractors – Wood Group PSN and Cape – have almost 220 repair and maintenance (R&M) workers at the St Fergus site in Aberdeenshire, and 85 of them could be made redundant.
More than 100 other R&M workers employed by the two contractors at the Shell gas operations in Fife at Mossmorran and Braefoot Bay may also go.
The Unite trade union said it had "major public health and safety concerns" about the job cuts. Unite industrial officer Rab Sherry said: "In a time when we should be sustaining skilled employment and increasing health and safety standards, Shell seems to be doing the opposite."
But Shell rejected the claims, saying the commitment to ensuring the safety of its people and infrastructure was its prime focus. A spokeswoman said that there was no change to Shell's ongoing maintenance programmes associated with the manpower reduction.
She added: "Commitment to ensuring the safety of our people and infrastructure is the prime focus for the company.
"We work closely with regulators and have invested over a billion dollars in recent years to upgrade facilities across the North Sea.
"We constantly inspect, monitor and review all our assets."
Meanwhile, senior MPs have asked Mr Moore to attend a special meeting about health and safety in the offshore sector after concerns raised by Jim McGovern, Labour MP for Dundee West.
"It's my opinion that there still seems to be a culture of union bashing in the offshore oil and gas sector," he said last night.
Mr McGovern claimed he had evidence of a number of issues offshore, such as a union official who went to talk to members about their concerns, but was given an office next to the human resources staff, meaning that few workers came to talk to him because the management could clearly see who he was speaking to.
He welcomed the chance to discuss his concerns with Mr Moore directly.
"I think the secretary of state was agreeable to a meeting," he said.
"If there needs to be a larger meeting involving trade union officials and representatives of the offshore oil and gas industry, so be it."
Ian Davidson MP, chairman of the Scottish affairs committee at Westminster, suggested arranging the special meeting between Mr Moore and Mr McGovern after the concerns were raised this week.
Last night, Mr Davidson said it would be up to Mr McGovern to bring evidence of specific offshore health and safety issues to the Cabinet member before deciding whether further action was required.
A spokesman for the Scotland Office said: "We are looking at the proposal that came out of the Scottish affairs committee and will consider it."
Jake Molloy, of the RMT union, pointed to the Deepwater Horizon disaster in the Gulf of Mexico last year as evidence that technological advances can be worthless without proper training and health and safety.
"Any discussion about how we improve health and safety has to be welcomed, there is no doubt about that," he said.
"There is still a lot of ingrained fear – a perception that speaking out somehow harms employment prospects.
"It has been around for a lot of years and how we address it and deal with it is up for debate.
"We are certainly arguing for improved training, greater powers for safety reps – giving workers ownership of the safety agenda."
He added: "There is no question that improvements have been made in hardware, but as Deepwater Horizon showed last year, you could have the most technologically-advanced piece of kit on the planet, but if the people operating it aren't operating the way they should, all the advances we have made are completely useless."
A Scottish Government spokesman said: "We are concerned to learn of these redundancies, especially at a time when confidence in the oil and gas sector is high.
"We urge the company, the unions and the workforce to explore all opportunities for the successful redeployment of those affected by this proposed change.
"In the unfortunate event of any redundancies being necessary, the Scottish Government will, through Skills Development Scotland, co-ordinate local response teams under the Partnership Action for Continuing Employment (PACE) initiative, to provide tailored help and support."
Recommended for you

40 years of HSE: RMT's Molloy runs the rule on North Sea safety