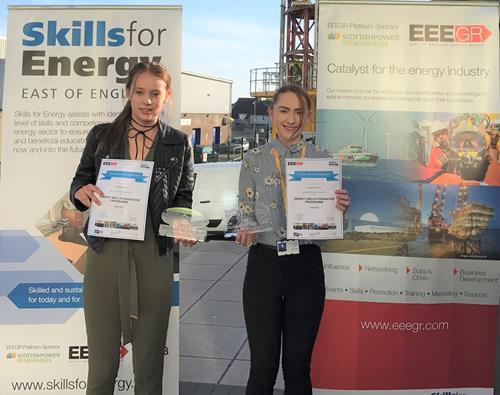 An industry leader, who recently highlighted the challenges faced by women in oil and gas, has praised two female engineering students.
Deidre Michie, the chief executive of Oil and Gas UK, last week said there is still a "mountain to climb" to bring more women into engineering.
It followed a UK-wide report that just 12% of those in the field are female.
Now Ms Michie has praised Jasmine Allen, 17, and Jodie Brand,18, who have been named joint student of the year for the Energy Skills Foundation Programme.
The intiative, by the East of England Energy Group (EEEGR), which saw a total of around 30 students gain experience and qualifications for the sector this year.
Ms Michie hopes that Jodie and Jasmine's efforts will inspire more people into science, technology, engineering and maths (STEM).
She said: "I'd like to commend Jodie and Jasmine on what is a fantastic achievement in their budding careers. I hope their story inspires more people to pursue their goals in STEM areas, empowered by the knowledge of great initiatives such as EEEGR's Skills for Energy programme.
"The UK's offshore oil and gas industry is an exciting place to work, offering up diverse global opportunities in high value roles."
Jasmine is also enrolling on a Level 3 engineering programme in September.
She added: : "I have really enjoyed the ESFP, as this has allowed me to develop an understanding of and passion for working on maintenance techniques, something which I hope to take forward into my career in the future.
"Having completed a Level 1 programme last year, I am pleased to be moving on to a Level 3 programme next year with the aim of progressing into higher education thereafter."
Recommended for you

Girls in energy team up to solve Scotland's energy challenges