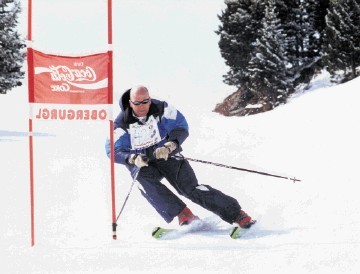 Despite the subsea sector employing 50,000 people and being worth £6billion annually, Neil Gordon believes the industry does not get the recognition it deserves.
The chief executive of industry body Subsea UK said the business was the jewel in the crown for UK plc, but had much more to offer in the years to come.
The future of the sector will be the focus of the organisation's annual conference, Subsea 2012, in Aberdeen next month.
The theme of this year's event – reaching further and going deeper – will be discussed by about 2,500 delegates on February 8-9 at Aberdeen Exhibition and Conference Centre and Mr Gordon said this year's exhibition would be the biggest yet.
He added: "We are right in the thick of preparations and now have around 120 exhibitors signed up."
Mr Gordon said the subsea industry was not just about the energy sector – Subsea UK also counts companies specialising in defence among its 230 members – but added that the transfer of knowledge and skills from oil and gas to renewables would be key to subsea's future success.
The 49-year-old said: "There are a lot of procedures which have been developed over 30-40 years of oil and gas which can be applied to renewables, and that is one of the things we are trying to push at the moment. We can help bridge the transition between oil and gas and renewables; Subsea UK's main purpose is to help its members grow, and that is one way we can do that."
Mr Gordon's own experience of the subsea industry started when he became a commercial diver after he graduated from the former Aberdeen College of Commerce and worked for energy service group Oceaneering.
Before then though, he had already worked in Scotland and the Continent as a ski instructor. Mr Gordon, from Braemar, started ski-ing when he was four and said he spent as much time on the slopes as possible after school.
He soon turned his attention to coaching and trained young skiers at Glenshee Race Training and Gordon Skiers.
Although he no longer trains skiers, he still coaches young people at Deeside Rugby Club after his three sons – Calum, 18, Struan, 15 and Lewis, 7 – started playing the sport.
Mr Gordon, who lives with wife Joanne at Aboyne, joined Subsea UK last year after spells with AVC, the National Hyperbaric Centre and even running the family business, Gordon's Restaurant, at Braemar.
He said his main ambition for the subsea sector was to enhance its reputation among young people and government ministers alike, adding: "The governments in other countries have recognised the potential of subsea and are ploughing resources into research and development. We are simply not doing that in the UK.
"We need a national technology strategy and greater resources to bring about the next generation of science which will deliver new applications to solve the problems.
"Attracting, retaining and developing the right skills to support the rapid growth of the industry has always been a challenge. We are going to universities around the country, and we want to engage more with schools to show what subsea has to offer. The organisation is growing and the industry is becoming more recognised, but it is an uphill battle.
"The UK has to try to maintain its leading position in the global market, and if we do not nurture fresh talent for the future we may lose that strong position."