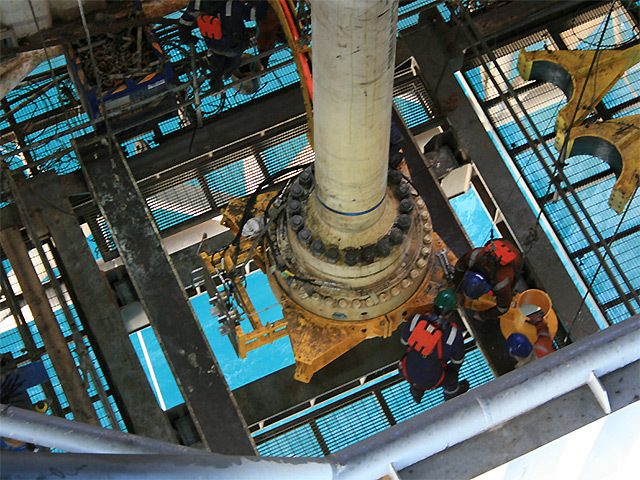 A new training course to help prevent oil and gas incidents has been launched by the International Well Control Forum (IWCF).
IWCF's free well operations crew resource management (WOCRM) awareness course will help well operations crews boost their knowledge of non-technical skills, including communication and teamwork, using one internationally available resource.
Course participants will also learn how to look out for warning signs of stress and fatigue in themselves and colleagues, which can affect performance in potentially dangerous work environments.
Research shows that better understanding of leadership, situational awareness and decision making can reduce the impact of human factors on major well incidents, such as Macondo.
IWCF chief executive Antony Quin said: "Major incidents make everyone in the industry sit up and take notice. Macondo was a prime example and strong prevention measures have been implemented since. Blowouts have continued at a high rate since the 2010 incident, so more needs to be done.
"The launch of this free awareness training means well control crews working anywhere in the world will have consistent, expert guided knowledge. We're urging widespread uptake through our network of training centres and look forward to feedback."
Dr Rhona Flin, a professor of industrial psychology, who has researched human performance in high risk industries, contributed to the course.
She said: "This is a valuable resource for the industry as we know that non-technical skills are key for maintaining safety and efficiency in well operations. This training package helps to build a basic understanding of these skills and explains why they are so important.
"It's vital that workers at all levels have the confidence to speak up about safety and increased knowledge can empower them to do so when they consider risk levels to be unacceptable."
Well operations crews can access the free course online and complete the modules in their own time. Those with a pass mark of 70% or above receive an electronic certificate.
IWCF has offered the WOCRM to its 280 accredited training centres worldwide as an additional resource for candidates, following the success of the Level-1 Well Control Awareness Course, which has so far attracted 34,000 people.
IWCF is an independent, not-for-profit organisation which sets international training standards for well control.