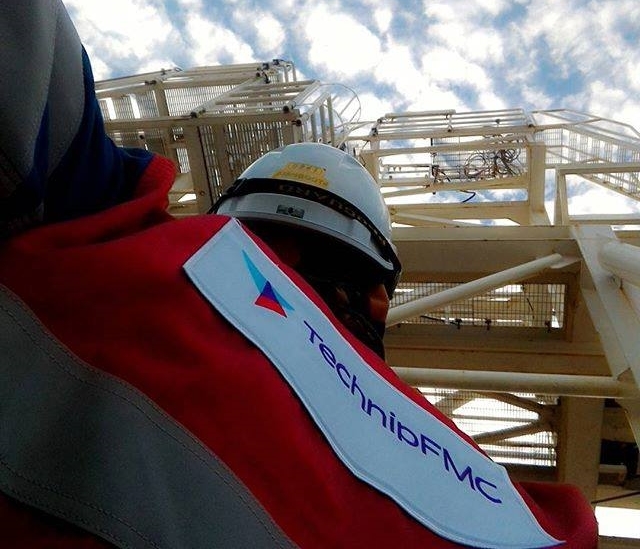 TechnipFMC reported falling earnings and revenues for the second quarter, although the global energy services firm still turned a $106 million net profit.
The profit fell from a $165 million gain during the second quarter of last year, while TechnipFMC's revenues dipped 23 percent down to $2.96 billion. Several of the company's projects are winding down while others are gearing up, so the timing saw second-quarter revenues take a hit, said TechnipFMC Chief Executive Doug Pferdehirt, who's based out of Houston.
The energy engineering, technology and construction company, which focuses more on the offshore sector, is still coming into its own since it was created in early 2017 through the merger of Paris energy engineering giant Technip with Houston offshore equipment manufacturer FMC Technologies.
The company's project backlog has grown to nearly $15 billion in orders, Pferdehirt said, so the future remains bright as the offshore energy sector slowly recovers from the recent oil bust. TechnipFMC's other big growth area is in liquefied natural gas projects.
No other company can offer the same complete suite of services, he said, including engineering, construction, technology, equipment and life-cycle services.
Pferdehirt cited the recent completion of Royal Dutch Shell's Kaikias project in the deepwater Gulf of Mexico as the new future of TechnipFMC almost single-handedly completing projects for companies.
Kaikias represents more of the new wave of cost-efficient deepwater efforts moving forward in the Gulf. Through the use of pipelines and subsea umbilicals, the so-called tieback projects are connecting to existing platforms in order to avoid building new facilities that cost billions of dollars.
"This approach represents a significant departure from 'business as usual' where distinct project scopes are bid independently; TechnipFMC is driving this new business model forward," Pferdehirt said. "We are demonstrating to the industry that savings in both cost and time increase as project
integration moves higher."
This article first appeared on the Houston Chronicle – an Energy Voice content partner. For more from the Houston Chronicle click here.