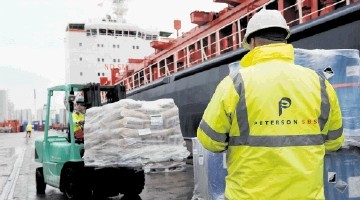 OIL services firm Peterson SBS said today it expected decommissioning to be a major growth area for the business.
The comment from managing director Mike Porter came as the Aberdeen-based firm announced a near-doubling in profits.
Accounts just lodged at Companies House show pre-tax profits for 2010 reached £1.057million compared to £566,000 the year before.
Turnover was just over £120.5million as against £93.453milliion in 2009.
Peterson SBS says it offers a comprehensive logistics solution, including logistics management, for the energy sector.
The Dutch-owned firm employs 346 people in the UK – 195 in Aberdeen. It also has bases in Shetland, which has a staff of 47, Edzell with 42, Heysham with 26 and Great Yarmouth with 36.
Mr Porter said: "The increase in turnover is attributable to increased product values and volumes from the marine fuels division, supported by some growth in most of our logistics hubs around the UK.
"Against a backdrop of rising diesel prices and local authority rates, we have seen an improvement in the efficiency of our Aberdeen and Great Yarmouth sea cargo handling operations.
"A review of our operating locations in Aberdeen in 2009 led to an improvement in our utilisation of warehouses last year which helped to improve margins.
"However, it is the fact that we have achieved this level of performance with the majority of our sites being able to record incident-free operations in 2010 which is particularly pleasing for us all."
The performance of the Shetland base was reported to have improved last year and Peterson SBS said operators were favouring the islands as a forward supply base for the supply of marine gas oil to rigs and platforms in the East Shetland Basin and West Shetland.
Mr Porter added: "Decommissioning is set to be a major growth area for the business, and earlier this year we worked alongside Veolia Environmental Services (UK) on the onshore dismantling of structures from the Inde gas field, on behalf of Shell UK. This was a significant project for us. Our facility in Shetland has been awarded a three-year contract handling 15,000 tonnes of subsea structures and we have plans in place to increase the number of sites capable of handling these structures."
Recommended for you

Lerwick Harbour evolving to meet new challenges