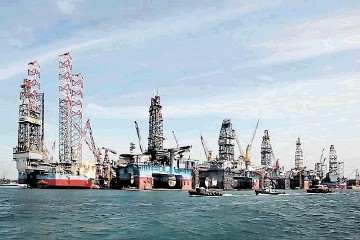 MAERSK Drilling has secured at least four years of work from Total for one of the two ultra-harsh environment "XL Enhanced" class jack-up drilling rigs currently being built in Singapore.
The rig will be used for drilling the demanding and complex wells for the Hild field development in the Norwegian sector of the North Sea.
Maersk Drilling has said that the contract, conditional upon approval of the Hild development by the Norwegian authorities, will run for four years minimum and that there are four one-year options.
The value of the initial term is around $550million; but this could more than double to $1billion-plus if all options are exercised.
The contract is expected to initiate at the latest by Q3 2014, once the rig has been completed, transported to Norway and certified by the relevant authorities.
"We are very pleased to further strengthen our business relationship with Total which is an important client for Maersk Drilling worldwide," said the company's CEO, Claus Hemmingsen.
"This first assignment for one of our new-building XL Enhanced jack-up rigs only eight months after we placed the order confirms our strong belief in an increasing demand for modern, high-capacity rigs for the Norwegian market."
The XL Enhanced design is a refinement enhanced version of the existing ultra-harsh environment jack-ups, Maersk Innovator and Maersk Inspirer. The two new rigs are similarly designed to operate in the harsh environment found in the North Sea and comply with all rules and regulations in the strictly regulated Norwegian sector.
Staying on the jack-up front, Seadrill of Norway has been awarded a two-year extension for the ultra-deepwater semi-submersible rig West Aquarius which is currently operating in Asia under a worldwide contract for ExxonMobil.
It is anticipated that the extension period will primarily involve operations in the North Atlantic area. An estimated 106 days will be required to mobilise the rig and prepare for operations which will be in addition to the firm extension period.
Seadrill has said that the expected revenue potential for the contract extension is estimated at $422million. This could double to around $900million, should ExxonMobil decide to exercise two further one-year options for use of the rig.