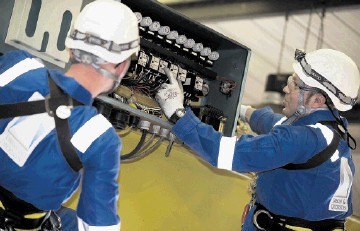 SCOTTISH company Dron and Dickson (D&D) said yesterday it had won work worth £55million this year.
D&D, which designs, supplies and maintains electrical equipment used in hazardous areas, said its strong performance in the first half of the year could continue into the coming months.
During the first six months of 2011 the firm signed or extended deals with major oil and gas operators including BP, Nexen and Talisman. It also has clients in the renewable-energy, pharmaceutical and distilling industries.
Operations director Colin Maver said that there was great potential for similar results in the coming year if D&D retained existing contracts.
The Stirling-based firm has a 210-strong workforce, with the majority of its work carried out at Aberdeen offices employing 30 people. It also has sites in Hull and Lowestoft. Mr Maver said most of the projects overseen by D&D's Aberdeen base were offshore but the company planned to increase its onshore work and expand its international activities.
D&D has added 35 people to its workforce recently and plans to recruit more in the coming months.