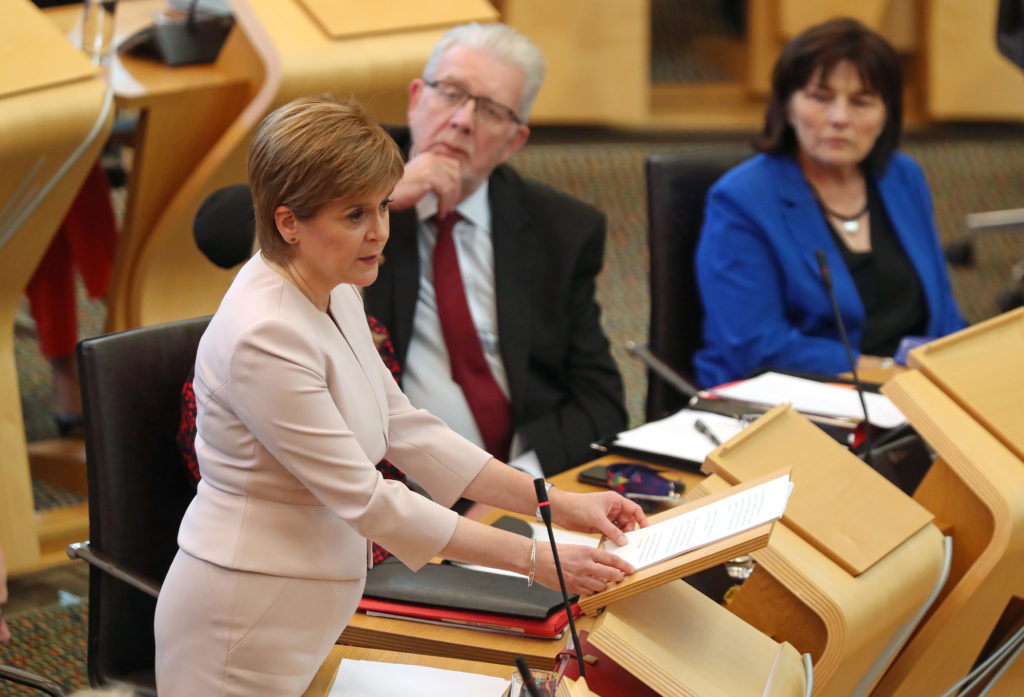 Scottish First Minister Nicola Sturgeon has dodged questions by Scottish Greens leader Patrick Harvie on anti-fracking protesters being classified as "domestic extremists'.
In an exchange at Holyrood today, Mr Harvie asked the First Minister when she discovered that anti-fracking campaigners the same designation that's "often reserved for racist and fascist forces".
Mr Harvie was referring to reports that Police Scotland had been attempting to infiltrate protest groups who have protested at the Inoes plant at Grangemouth.
Late last year, Ineos attempted to obtain an injunction prohibiting unlawful activities such as trespass or obstruction at its shale gas sites should be continued.
Ineos wanted Justice Morgan to extend an existing order, but environmental campaigners claimed it was "unprecedented" and "draconian" and urged the court to discharge it.
Glasgow's Green MSP Patrick Harvie said: "Anti-fracking campaigners who exercise their democratic right to protest are heroes. Yet Police Scotland have labelled them domestic extremists. The First Minister urgently needs to clarify when she and her Justice Secretary became aware of this and spell out what actions the government will take to address this.
"We've known for years that environmental campaigners, along with peace activists and others, have in the past been spied on or infiltrated by police forces in the UK, including in Scotland, but this statement of current practice is shocking.
"If individuals, campaign groups and communities cannot peacefully campaign on issues that matter in our society without being treated as 'domestic extremists', the same category used to describe racist and fascist forces, this strikes at the heart of the relationship between policing and the public – that isn't a mere operational detail, it's clearly a political question.
"This weekend I'll be joining members of my party, as well as people in the SNP, Labour, and many others at Faslane to protest the existence of weapons of mass destruction in Scotland; just as people have worked together to oppose blood sports, environmental destruction, asylum evictions and more. The First Minister must guarantee that campaigners at Faslane on Saturday will not be designated as domestic extremists merely for attending a peaceful rally."
A Scottish Government spokesperson said: "Both the Scottish Government and Police Scotland support the public's right to peaceful protests that are conducted within the law."
Recommended for you

Scottish – German collaboration project to unlock £17bn green hydrogen market