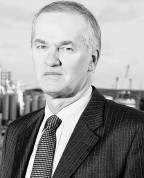 CONTINUED growth in oil and gas -related work is driving forward business at Aberdeen Harbour, according to figures from the port.
More than 3,574 offshore support ships have visited the port this year, up from 3,394 during the same period in 2010, Aberdeen Harbour Board (AHB) said yesterday.
The overall tonnage of traffic servicing the energy sector is up by almost 2% on the previous year, at 10.65million tonnes.
AHB chief executive Colin Parker said the figures underlined the port's "critical importance" to the energy sector in north-west Europe.
He added: "These increases reflect the trend for larger vessels – such as multi-purpose supply, diving support and underwater examination – using the harbour and accommodating the rising volumes of consumables needed for deepwater developments.
"New drilling activity also accounts for greater traffic movements, from anchor handlers to more specialist crafts."
Recent work at the port means it is now better equipped to support increased activity levels and bigger ships.
A string of projects has seen one-third of the harbour's four-plus miles of quays completely transformed.
AHB said Point Law peninsula alone had seen investment of more than £20million in recent years.
The board said: "The improved facilities have allowed greater efficiency of operations and introduced sharing opportunities.
"Redundant buildings have also been demolished and improvements have been made to road surfacing, providing more operational space."
AHB said the first phase of the harbour's £30million Torry Quay development remained on track for completion by the end of 2011.
It added: "The initial stage of the largest civil engineering project to be undertaken at the port in recent years includes the demolition of the existing upstream quays, which are to be replaced with 300 metres (984 feet) of realigned, deep-water berthing.
"The development will provide stronger quays for heavy lifts and create more room in the River Dee for vessels to navigate."
Overall, the Torry Quay work is expected to result in more than 1,640ft of new deep-water berths and in excess of 17 acres of back-up land on the south side of the River Dee.
Around £4million has been spent at Commercial Quay East, with work including the reconstruction of a 558ft wall and the dredging of the berthing area to a depth of 25ft.