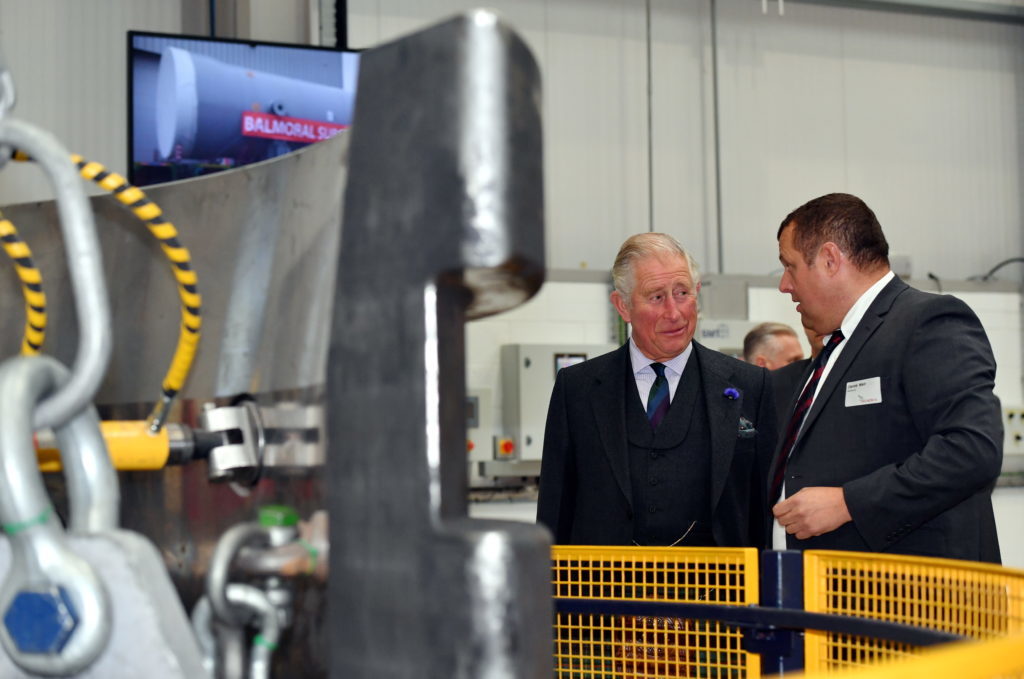 Prince Charles highlighted the depth of his interest in Aberdeen's oil industry yesterday during a visit to a new £20 million centre for testing subsea technologies.
The Duke of Rothesay officially opened Balmoral Offshore Engineering's ground-breaking facility in front of 100 guests in Loirston.
The base will give the wider subsea industry a place to test a diverse range of equipment and products at extreme pressures.
His Royal Highness congratulated Balmoral on the investment, which he described as a "wonderful example" of innovating to remain competitive.
He was accompanied on a tour of the facility by Jim Milne CBE, chairman and managing director of Balmoral.
Mr Milne hailed the project as a "remarkable feat of engineering", considering the rapid turnaround.
Construction started in January 2016 and was completed in less than two years.
Balmoral had to use dynamite to blast down through 50ft of Aberdeen's famed granite sub-strata to make room for a series of new pressure test vessels.
The company now has a total of 23 vessels at its disposal at the Balmoral Park base.
They can simulate conditions found in water depths of 23,100ft.
One of the newer units weighed in at 285 tonnes and had to be transported over the 137 year-old Victoria Bridge in Torry last year.
The more modern Queen Elizabeth II Bridge would not have been able to bear the load, when the weight of the transportation vehicles is factored in.
The huge subsea test centre covers an area the size of six tennis courts and boasts an overhead crane capable of lifting 40 tonnes.
Mr Milne, who spearheaded the project, said he was "immensely proud" of the facility and thanked colleagues and subcontractors for their hard work.
He said: "We are here to celebrate what I believe is an outstanding and enduring addition to Aberdeen's reputation as a key player in the energy sector and one of the UK's most innovative cities."
From the new base, Balmoral can perform a range of procedures, including hydrostatic, mechanical and laboratory trials.
The entrepreneur said Balmoral's equipment was used in 90% of deepwater oil and gas projects across the global, adding that the firm's ability to check all of its own products in-house gave it the edge over competitors.
Mr Milne also said demand for the testing of increasingly large pieces of kit at short notice was increasing every day.
He said: "In these highly risk-averse days the requirement for product testing is ever-increasing, the size of products is ever-increasing and the demand for just-in-time delivery is the norm.
"Relying on third party test houses would put us in a very uncompetitive situation, that's why we carry out as many processes as we can in-house – from product concept to material development, testing and realisation. That's what separates us from the rest of the market."
Mr Milne said the centre's opening meant Aberdeen firms having to send products to the US for testing was a thing of the past.
Clients from a range of sectors, including energy, defence, oceanography and academia, will be able to use the centre.
It has been kitted out with software allowing real time observation from anywhere in the world, so customers can see whether testing was successful.
Prince Charles, who unveiled a commemorative plaque, said: "I would like to take this opportunity to congratulate Balmoral on the remarkable new investment made in this subsea test centre, which is one of the few in the world that can do this sort of work.
"What's so impressive about the north-east of Scotland is that it has the highest concentration of companies involved in subsea engineering.
"The UK is a global leader in this sector, which is another reason why this whole area is of such enormous importance."
Mr Milne said the royal visit was a boost for Balmoral and its employees.
He added that Prince Charles had demonstrated a genuine interest and knowledge about the company's line of work.
Balmoral Offshore Engineering specialises in deepwater buoyancy, insulation and elastomer products and is a division of Balmoral Group, an employer of more than 500 people.
The privately-owned business has been providing solutions to the energy, engineering, marine, building, polymer engineering and processing sectors since 1980.