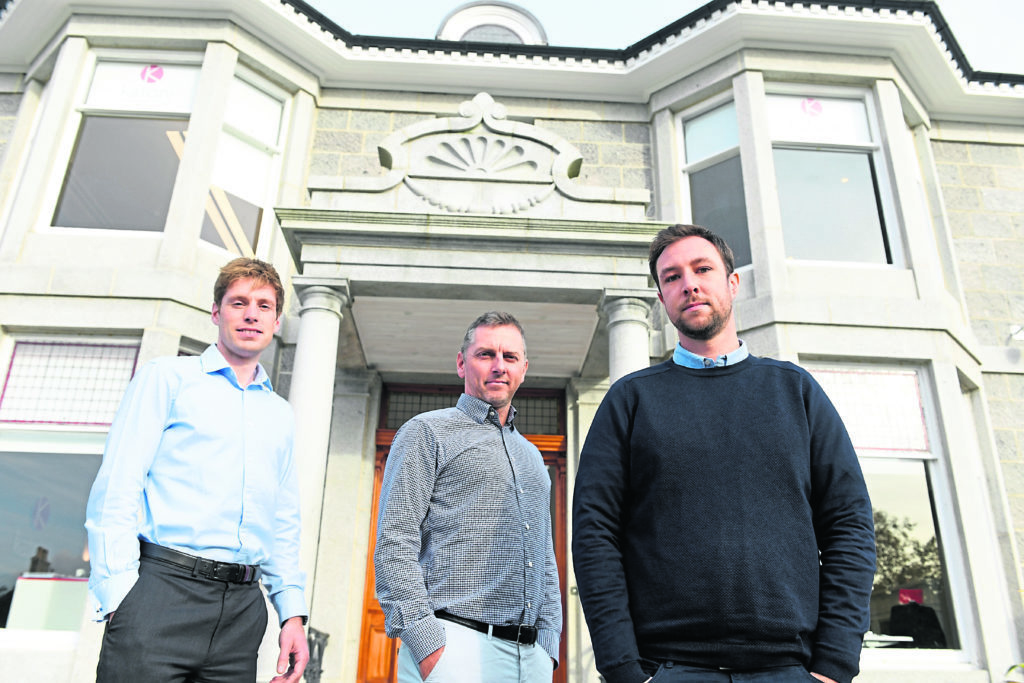 The chance to help grow the company was the reason a trio of engineers left giant North Sea firms for relative newcomer Katoni Engineering.
Katoni has appointed Calum Martin and Greg Muir to head up the electrical and instrument and controls teams respectively, while Tom Sargent will assist Mr Muir in a senior role, all off the back of new work being awarded.
Mr Martin joins from operator Total, while Mr Muir has left energy services giant Petrofac to take up the new position.
Mr Muir, whose new role is lead controller instrument engineer, said: "One of the things for me was the opportunity to grow something that small.
"When you talk about Petrofac in my case, it's larger, it's established and it has its issues so there is an opportunity here to come in at the ground level and grow the company in a direction to produce good engineering results.
"A lot of the time you can come into larger organisations and there's maybe a few hangers-on, for want of a better word. It's not always geared towards giving the best engineering solution."
Mr Martin added: "For me, I was looking for a new challenge at the time. It's quite unique and it's exciting because it is one of the most interesting stages of a business where Katoni are just now."
Katoni specialises in control system work for FPSOs and fixed platforms, with work for Dana Petroleum, Apache and Chevron.
With the industry now emerging from the oil and gas downturn, the firm is one of many aiming to take advantage of new opportunities.
Coming from a large firm like Petrofac, Mr Muir believes smaller, streamlined companies like Katoni will start to take more and more work from big competitors.
He said: "In the last few years of the oil industry it has maybe suited the operators to have more bespoke solutions rather than putting all their eggs in one basket and can be more cost-effective with a variety of options.
"Smaller firms have come through in this time and are taking work away from the bigger ones.
"I think maybe the industry has reached the point now where it has gone as far down as it is going to go and it is starting to come back.
"I think there has been quite a rise in work at Katoni in the last six months. A lot of people are quite new and people do seem to be busy so hopefully that continues."
Katoni is aiming to grow its structural and piping teams in the coming months and has longer-term plans to recruit in offshore maintenance and construction, as well as potentially adding more to its electrical engineering team.
Mr Martin added: "The great appeal to me was the size of the company and its ambitions for the North Sea and for opportunities overseas.
"We have a couple of guys back from a development in Mexico so that's a promising market as well for us."
Katoni has noticed a rise in interest in its services since building up a "track record" of work with operators.
As more work comes in, the Aberdeen-headquartered firm plans to keep recruiting.
It comes while Katoni looks for more work in international markets, as well as focusing on its core North Sea business of maintaining existing assets.
General manager James Bream said: "I guess it is the start of the beginning in some ways.
"We do see the focus of the business being the North Sea because of the requirement for operators to service their existing assets at a lower cost.
"Having the right people is the most important thing.
"Ultimately the reason we picked up work is because we're really competitive on price and because we've got good people in. People know they're going to get a good output. Unless we deliver brilliant engineering solutions, we don't have a business so that is the most important part of what we do.
"A reputation takes a long time to build and can be lost very quickly so that's why we spent so much time making sure we get the right people in, and I think we have those now."
Recommended for you

Choosing fast FLNG to cash in on sky-high gas prices