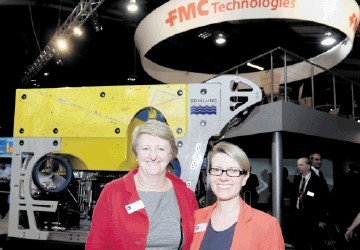 Another successful Offshore Europe oil show drew to a close in Aberdeen today.
Just over 42,000 people from all corners of the world attended over the three days.
This was behind the record total of 48,565 in 2009, but this year's gathering was one day shorter to avoid a clash with the Walker Cup golf event.
OE 2011 is expected to have generated more than £85million for the north-east economy and also millions of pounds of future orders for Scottish companies attending.
Exhibition director Elaine Hulse said: "It's been an absolute resounding success. The aisles were packed through the three days. The exhibitors were very happy – one major contractor, for example, had more than 100 nationalities on their stand during the show."
Just over 82,000 square feet of exhibition space was taken at Aberdeen Exhibition and Conference Centre, making it the largest show in the event's history.
Companies at the show were delighted at how it went.
Fraser Innes, chairman of Paradigm Oilfield Services, said: "Investing extra in a larger stand to display new drilling tools delivered value as it attracted a lot of attention from prospective international clients, including a national oil company interested in funding new technologies."
Mike McLeish, director at Encode Software Solutions, said: "This is the first year we have exhibited at OE. It's a fantastic opportunity to meet with our international clients who are in Aberdeen during the week and there has been a positive atmosphere amongst other exhibitors too."
Andrew Louden, managing director of Interwell's UK operations, said: "OE has been a huge success for us. Although we are an established company, we have a new brand and the show has been a good opportunity to increase the industry's awareness of our identity."
Steven Ferguson, managing director of Ferguson Group, said: "OE has been a great exhibition this year – a chance for us to meet with customers, suppliers and visitors from around the world. There have been some fantastic stands and a real buzz around the exhibition. It's been a great success."
Kenny McAllister, chief executive of Brinker, said: "We exhibited for the first time this year and it has been a fantastic experience. Over the three days we've been able to meet with key customers, new prospects and potentially secured one project, while also making a number of positive leads. There is a real sense of optimism, not only around the future of the North Sea but also on the skills and technologies that this region has to offer the industry worldwide."
Roy Burrell, director and general manager of Swire Oilfield Services, said: "This is the first time we have exhibited at OE for a number of years, and it's fair to say the exhibition has changed substantially since then, not least in terms of its spread and influence. The buoyant mood of the visitors to our stand is extremely encouraging and we've managed to make, and build on, some extremely important connections."
Tony Holliday, chief executive of CorDEX Instruments, said: "As first-time exhibitors, we have been extremely impressed by just how busy the show has been and the live leads we've had from major operators who are looking for inspection equipment to comply with safety standards. We also signed a new deal with a Brazilian distributor which will open up a whole new market for us."
David Clover, business development director at oil and gas remote downhole and wellbore camera specialist EV, said: "This has been an exceptionally-successful show for EV in that we've made a lot of really strong business leads based on our growing track record and built considerably on our network of contacts."
Neil Poxon, managing director of technology facilitator ITF, said: "We have had an incredibly busy show meeting with our member companies, engaging with technology developers and establishing relationships with new contacts."
Chris Rodger, technical marketing manager for provider of completions and reservoir monitoring products and services Tendeka, said: "Offshore Europe has been an excellent show, with a wide range of new technologies on display and an extremely positive buzz about where the industry is at the moment."
Keith Palmer, Europe CIS region director with Expro, said: "Offshore Europe has been an excellent event for Expro. Our team was able to interact with a large number of clients from around the globe and share with them the services that Expro can provide."
Recommended for you

Delayed face-to-face Offshore Europe event nearly fully booked