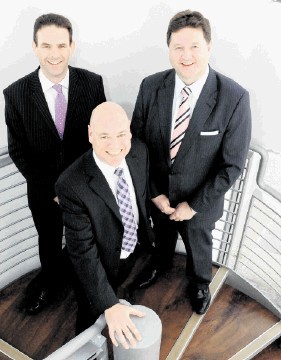 ENGINEERING services firm ClerkMaxwell has mapped out a programme of rapid expansion that will see more than 150 jobs being created in Aberdeen, Teesside and the Middle East.
ClerkMaxwell, acquired by £1billion-a-year turnover civil engineering contractor Costain in April, believes the acquisition of PSN by the Wood Group has created a vacuum in the offshore engineering services market that it can fill.
It is a key reason why managing director John Wilson and director Alistair Dornan expect the north-east Scottish firm's business to grow rapidly, especially in Aberdeen, where the headcount is expected to leap from 60 to more than 200 within five years.
"We see substantial growth here," said Mr Dornan. "We believe a bit of a gap has been left by Wood Group's acquisition of PSN, and the market out there is ready for someone to come in and help fill that.
"With Costain behind us and what we stand for at ClerkMaxwell, we think there's a good opportunity for us to fill that gap, including broadening out the business towards the construction side."
As for Teesside, Mr Wilson said ClerkMaxwell's parent company already had a presence and that he had a team of eight down there already.
"It's a matter of getting systems hooked up within the next month or two," he said. "Office capacity is 40 but we can increase that as there's available real estate within the business park. We're currently interviewing people."
Turning to the Middle East, Mr Wilson said that ClerkMaxwell was again piggybacking its parent, which already has, via its process and energy division, a substantial presence in the region, both in mid-stream and downstream petroleum industry-related construction and support.
"The way Costain has it at the moment is that they do plenty of work in the mid-stream (part of the oil and gas business), but we know from speaking with them and their clients that there are huge upstream opportunities in the region.
"I think it needs to be a separate ClerkMaxwell-branded office; I think we're looking towards October when we'll start. We have a team of process engineers from Costain's Manchester office on the ground.
"At the moment we're bringing work back into Aberdeen but the intention is to create a standalone out there and to grow that."
He added that Costain's training academy for graduates was helping ClerkMaxwell to attract talent, with a number of new people added since the acquisition, when the headcount was 50 or so.
As for the company's trading position. Mr Wilson said the firm was doing well in the North Sea.
"We're getting a lot of repeat work.
"We have a number of three-year term contracts in place and that's growing rapidly.
"Our intention is to try and take projects all the way through.
"The other area of keen interest – and there are discussions ongoing with various clients – is enhanced oil recovery (EOR).
"We're currently working with a major blue-chip on EOR, and that has resulted in a huge amount of repeat work because of the level of value that we're adding at the concept front-end. That's then gone on to do project detailed design.
"EOR is key for our growth.
"It's all about extending the life of the North Sea."