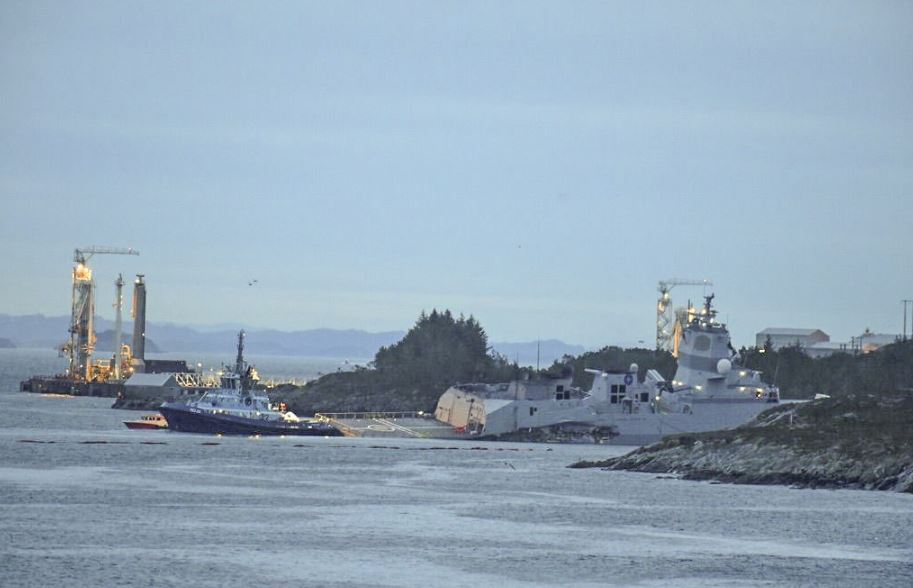 Norwegian oil giant Equinor has announced that it has "resumed operations" after it shutdown all operations at its Sture terminal following a tanker collision near the city of Bergen.
Equinor confirmed early this morning that personnel at Sture "without emergency tasks" will be evacuated and that a shutdown will be performed as "a precautionary measure".
The company said "the sture terminal and Kollsnes plant resumed operations Thursday afternoon after being shut down in connection with the collision".
A collision between the KNM Helge frigate and tanker Sola TS occurred while it was docked in a harbour at Sture, north of Bergen
Officials said the KNM Helge Ingstad could sink after the collision, reported at 4:15am today.
Eight people were slightly injured, and the 127-strong crew were taken off the frigate.
Eirik Walle, of Norway's rescue centre, told Norwegian news agency NTB that the collision caused an opening in the frigate's hull and "it is taking in more water than they can pump out. There is no control over the leak and the stern is heavily in the sea".
The Malta-flagged tanker, Sola TS, was not damaged and its 23-man crew remained on board.
Equinor added that it is in dialogue with Norwegian authorities and emergency services concerning the incident.
The frigate Helge Ingstad sustained severe damage in the collision, which occurred only about 15 minutes after the tanker TS Sola, carrying approximately 600,000 barrels of oil, set sail under tow from Equinor's Sture terminal.
The frigate moved to an inshore location and was listing heavily at 11:30am, amidst emergency efforts to prevent the vessel from sinking.
The Sture oil terminal, which has about 6 million barrels of underground oil storage capacity, is the receiving terminal for Oseberg Blend (105,000 bpd impacted) and Grane Blend (260,000 bpd impacted). The largest contributors to Grane Blend are the Grane, Ivar Aasen and Edvard Grieg oil fields.
Recommended for you
X

UK power station plans hang in the balance as Toshiba dumps nuclear