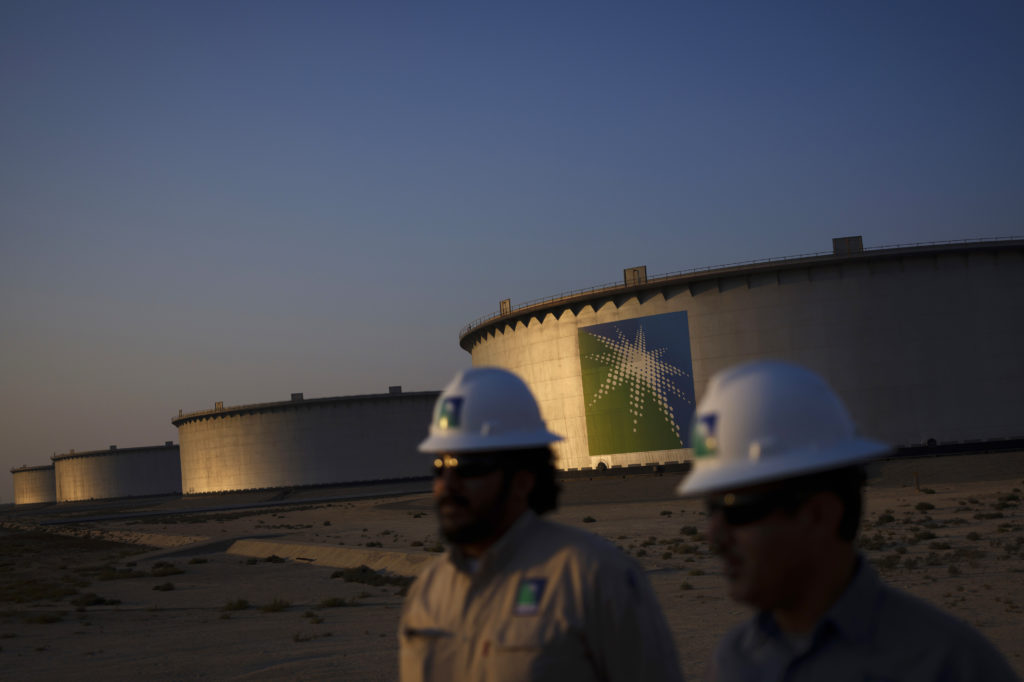 Oil climbed after a record run of losses as Saudi Arabia said it will reduce crude sales in December and speculation rose that OPEC and its allies will cut output next year.
Futures in New York climbed as much as 1.6 percent on Monday, paring losses after slumping into a bear market last week. Top OPEC member Saudi Arabia said it'll curb exports by 500,000 barrels a day next month, reasserting its role as a swing producer. A committee of the Organisation of Petroleum Exporting Countries and its partners warned over the weekend that it might need "new strategies," raising the prospect of a wider cut in 2019.
The Saudis are taking the lead to counter a price slide of about 20 percent over the past month, which has put pressure on OPEC and its allies including Russia to cut output as signs of a glut emerge in the U.S. Oil has retreated from the highest level since 2014 as fears of a crunch eased after America granted waivers for some nations to continue buying Iranian crude even after the Trump administration hit the Middle East nation with sanctions.
"While the Saudis said it's too early to go ahead with discussions on production cuts, Russia said supply exceeding demand is a seasonal factor, signaling it's not necessarily keen to cut output," Takayuki Nogami, chief economist at Japan Oil, Gas and Metals National Corp. said, predicting "many twists and turns" before OPEC's next meeting in December. "Still, markets have gotten the message production cuts are likely if oil keeps falling."
West Texas Intermediate for December delivery rose as much as 97 cents to $61.16 a barrel on the New York Mercantile Exchange and traded at $60.99 at 4:41 p.m. in Tokyo. Prices slid 0.8 percent to $60.19 on Friday, falling for a 10th day. Total volume traded was more than double the 100-day average. A measure of oil market volatility jumped to the highest level since late 2016 at the end of last week.
Brent futures for January settlement added $1.42 to $71.60 a barrel on the London-based ICE Futures Europe exchange. The contract fell 47 cents to $70.18 on Friday, the lowest close since April 9. The global benchmark crude traded at a $10.40 premium to WTI for the same month.
Softer Demand
Demand for Saudi oil is "tapering off" in part because of seasonal factors, so the kingdom will ship less, Energy Minister Khalid Al-Falih told reporters on Sunday in Abu Dhabi, where the committee that oversees the 2016 agreement between OPEC and its allies to manage supply met.
The world's biggest crude exporter may struggle to convince others to follow its lead. Iraq has successfully boosted production to a record, and its more fragile economy may make it loathe to reverse course. Russian Energy Minister Alexander Novak showed no sign he was ready to act immediately, and said the market should be balanced by the middle of next year, though there are forecasts for a surplus of 1 million to 1.4 million barrels a day.
The producers need prices that are high enough to balance their budgets and low enough to stimulate demand and shield themselves from attacks from American President Donald Trump. Their caution arises partly from the unpredictability of Iranian supply. The U.S. at first insisted it would seek to curtail all of the country's exports, only to grant waivers to eight of its customers just as Washington reimposed sanctions this month.
Other oil-market news Saudi Energy Minster Khalid Al-Falih  said they see the need to cut 1 million barrels a day from an October level U.S. drilling rigs targeting crude oil  rose by 12 to 886 last week, the largest weekly increase since May, according to data from oilfield-services provider Baker Hughes on Friday. State-run producer Saudi Aramco was said to have  given full contractual oil volumes for December to at least three North Asian refiners.
Recommended for you

Oil swings as G-7 mulls Iran deal revival, cap on Russian oil