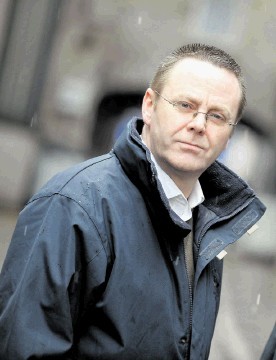 North Sea offshore workers could launch a wave of industrial action for the first time in two decades if the UK Supreme Court rules against their claims for paid holidays today.
A trade union boss raised the spectre last night of a strike which could shut down the offshore oil and gas industry and potentially damage Britain's fragile economic recovery.
The threat came on the eve of what could be the end of a seven-year legal battle to secure two weeks paid leave for thousands of North Sea workers.
The RMT and Unite unions claim staff are entitled to the holidays under European working-time rules – and the five Supreme Court justices who heard the appeal will deliver a verdict today.
Jake Molloy, RMT official and general secretary of the Oil Industry Liaison Committee, said if the appeal was dismissed, it would represent the "last roll of the dice" in the legal case.
He told the Press and Journal last night that the union would then arrange a "series of meetings up and down the country" to discuss a future "strategy".
"If that means taking it to the employers in the workplace, so be it. It is not going to go away," he said.
Asked if he meant industrial action, Mr Molloy said: "If that is what our members decide, then that is what it will be.
"If we don't get it sorted through the courts, there is only one option open to us. That is not to say we are calling for it, it is up to the members."
The appeal could be upheld or thrown out by the Supreme Court, or referred to the European Court of Justice in Luxembourg for a ruling.
Mr Molloy, who represents 5,500 members in the offshore industry, said he was not optimistic – and criticised the judges for displaying what he claimed had been a "dismissive" attitude at October's two-day hearing in London.
The last industrial action by workers in the North Sea came in 1989 and 1990 in the wake of the Piper Alpha disaster, and challenged health and safety practices.
Industry body Oil and Gas UK refused to comment yesterday.
Andrew Reid, managing director of Aberdeen-based energy consultants Douglas-Westwood, doubted that the current row would lead to industrial action but said the effects would be significant if it did.
"The damage even if it was just 24 hours would be horrendous," he said.
"We are not in an industry where you can just turn things off and back on again.
"It wouldn't be just financially damaging to the organisation which owned the asset, the lost production would have quite a detrimental impact on the UK economy, given the contribution the oil and gas industry makes."
However, he added: "I wouldn't have thought offshore workers as a whole are being taken advantage of and are not getting well remunerated for what they do." I think they recognise it's quite the opposite.
"Would there be overall generic support for this kind of activity? I don't think so."
A year ago, the Court of Session in Edinburgh ruled that shift patterns of offshore workers satisfied all the requirements of European working-time rules.
The judgment was issued four months after the unions appealed against an employment tribunal ruling denying offshore workers more paid holidays.
At the Supreme Court in October, a QC acting for the unions argued that offshore staff are at work for an average of 328 more hours a year than most Monday to Friday workers and should be allowed extra time off.
The court heard debate about the definition of the word "leave" in EU rules, and whether it had to be taken by employees when they would otherwise be expected to work, or if the periods when offshore workers are at home and not on shift should count as their holiday period.
John Cavanagh QC, acting on behalf of Transocean International Resources and other firms, said if leave had to be taken from periods when staff would otherwise be working, then teachers would be entitled to four weeks holiday during term time.
The case was heard in front of Lords Hope, Brown, Mance, Kerr and Wilson.