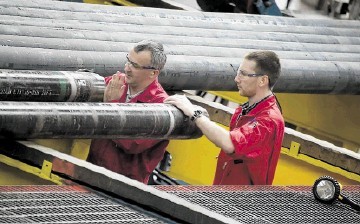 Oil service firm Hunting said yesterday that its return to the black in 2018 was driven by US onshore drilling activity.
Hunting said industry investment was generally "stagnant" in the North Sea as its European business continued to report losses.
London-headquartered Hunting's European operations are in the UK, Netherlands and Norway.
The company launched a new centre of excellence at its base in Badentoy, Aberdeenshire, to boost the development of new oil and gas technologies.
Hunting's European well intervention business did experience increased demand for pressure control and well testing equipment, however.
Group pre-tax profits totalled £56 million last year, compared to a deficit of £20.1m in 2017, while revenues jumped 25% to £685m.
Hunting chief executive Jim Johnson said: "The group's improved performance in 2018 and into early 2019, has been driven by US onshore-centric drilling activity and investment, while the results of Hunting's international businesses remain dependent on further market improvement.
"Given the ongoing commodity price and geopolitical volatility, the board remains focused on the agility and flexibility of the business to respond to market conditions.
"Initiatives to further improve profitability and margins, and reduce losses, including in-sourcing of production, facility rationalisation and inter-segment manufacturing, will also continue in the year ahead.
"The company has a number of new products and technologies scheduled to launch in 2019, which will continue to broaden our market reach.
"Further, with the commissioning of new, higher-efficiency manufacturing, the potential for margin improvement in our key product lines is anticipated, however, it is also conditional on activity levels improving.
"The board continues to review bolt-on acquisition opportunities, which, if concluded, will increase our presence in the wellbore and enhance our current product portfolio.
"Any potential acquisitions would need to complement our portfolio of onshore technologies as well as subsea completions within the oil and gas industry.
"With a strong balance sheet, tightly managed cost base and a strong presence in our chosen upstream equipment and service markets, Hunting remains well positioned to capture opportunities in the current market, should the recovery across the industry continue."