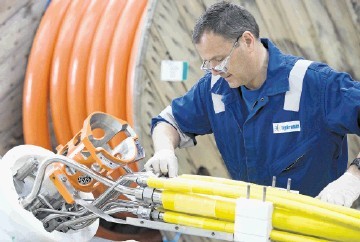 Aberdeen oilfield service company Hydrasun said yesterday it had completed a multimillion-pound acquisition in Brazil.
The provider of integrated fluid-transfer, power and control services to the global energy market added that the deal created the potential for sales worth millions of pounds in the South American country.
The exact value of the acquisition of Macae-based Remaq was undisclosed, however, it is thought to be about £5million.
The Brazilian business, a key provider of flexible hose assemblies, will now trade as Hydrasun Remaq.
Hydrasun chief operating officer Bob McAlpine said: "Our latest acquisition will allow us to grow our international business in Brazil's fast-developing offshore market by providing Hydrasun access to Petrobras and also providing existing global customers with an additional service capability in Brazil.
"We will be able to export additional Hydrasun products and services to the Brazilian market – such as integrity management, subsea control umbilicals and specialist hose applications – with other added-value services, including instrumentation, process control and hydraulics. We have already placed substantial orders with our main suppliers to ensure we offer our customers in Brazil the same high standards we deliver for those in Aberdeen."
The Brazilian business currently employs 22 people, but staff numbers are forecast to increase over the next year.
Hydrasun said investment would also be made in the premises, machinery and equipment to develop a world-class site that supports ongoing business growth.
Following the Brazilian acquisition, Hydrasun employs 542 people globally. The group relocated to purpose-built headquarters in Aberdeen earlier this year after experiencing major growth in the North Sea and internationally.
It exports to more than 50 countries and, in addition to Brazil, has international operational bases in Azerbaijan, Kazakhstan and the Netherlands in addition to a presence in west Africa, the US Gulf of Mexico and the Middle East.