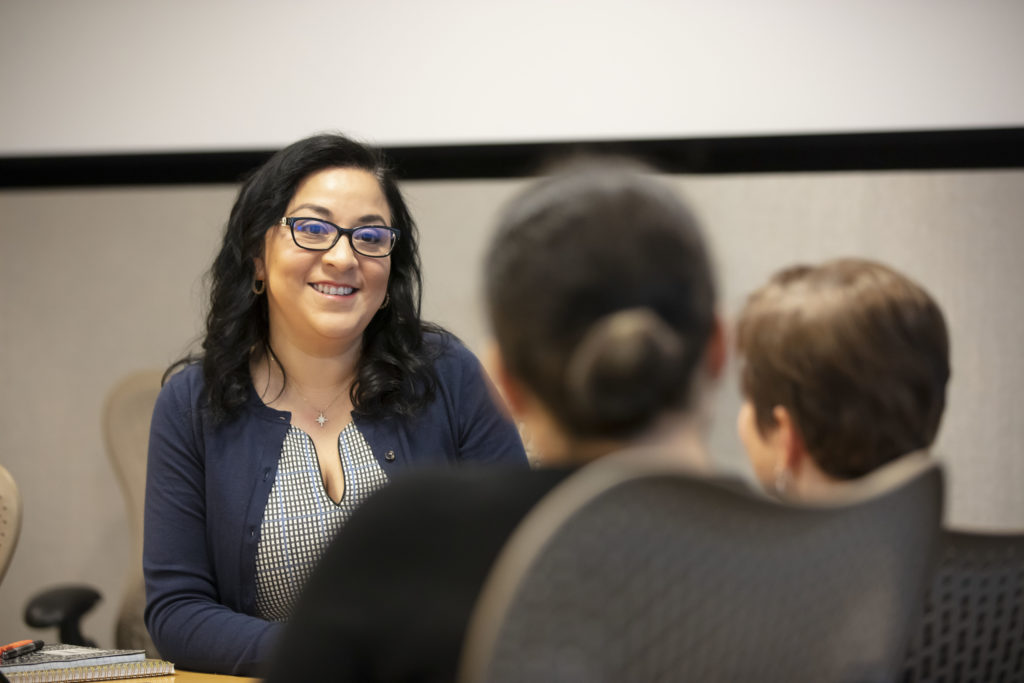 To mark International Women's Day, Energy Voice has carried out a series of interviews with female industry leaders.
Kathleen Martinez is the executive director of the BP Foundation and senior director of national strategic relationships and initiatives for BP America.
As part of her role, Kathleen helps drive efforts to create a gender-balanced workforce alongside organisations such as the Society of Women Engineers, the National Black Engineers, and the National Society of Professional Engineers.
She is also heavily involved in the BP's STEM Ambassador Programme.
Here in the UK, it is well-documented there are fewer young girls studying STEM subjects than boys and therefore there are fewer women working in oil and gas / wider energy sector. Do you see a similar issue in the USA and, if so, what steps are being taken to address it?
Similar to the UK, we do see fewer females pursuing STEM education in the US, yet I believe this is more than just a question of gender. The fact is that many economically disadvantaged students don't have equitable access to STEM education and knowledge of career opportunities. This is why our work at BP is focused on increasing opportunities for students and increasing wider workforce diversity in the energy industry, as well as other sectors that require advanced science and technology skills.
If you just take a quick look at the demographics of the US, you clearly see that girls and underrepresented minorities offer a great opportunity for BP and the wider industry to cultivate future engineers, technologists and scientists. To address the gap in STEM education, it is crucial that we do our part to broaden the horizons of students at a young age, letting them experience what the sector has to offer. One of the ways we do this is through our BP STEM Ambassador programme that officially launched in the U.S. in 2018. BP employees partner with schools and work with students and teachers to bring STEM to life, build valuable skills, serve as mentors, raise awareness about our dynamic and innovative energy industry, and share real world experiences with students. Our aim is to spark STEM interest in students across the country.
The point has been made that young girls (and boys) do not necessarily need to study engineering in order to pursue a career in oil and gas as the industry needs people in a variety of roles. Should the industry be doing more to invite people from a range of educational and career backgrounds?
We're always looking for talented individuals to join the organisation from a range of disciplines. For instance, I don't come from a STEM background myself – I studied Psychology at the University of Texas in San Antonio before changing majors to Marketing and Business. However, today I am fully committed to helping BP lead the energy transition and advance energy.
You are absolutely correct that you don't have to be an engineer to work in the energy industry, there are many contributors in many distinct roles across the industry – all important. If you take BP for example, many people see a large oil and gas company. And while BP is certainly an oil and gas company, we are so much more. This is the part of my job that I love, increasing awareness of BP's diverse portfolio, our focus on innovation – we are a forward-thinking technology company that is working to provide the energy the world needs – while reducing carbon emissions. And to do this we will need the brightest minds – inclusive of STEM professionals – and many other creative and innovative individuals. So no, you don't need to be an engineer to work at BP, however we know that we will continue to rely on scientists, technologists and engineers to help us lead the energy transition.
This is why I am so passionate about the work that we lead – my team is working to increase understanding among students and teachers about the energy industry and the immense – and high wage – career opportunities that are available across our industry.
I believe ultimately, if we increase the understanding of roles and our industry we can help guide students make the best decisions for themselves, but they must be informed if they are to make the right decision. If they want to be an engineer, then we want them to know that it is not beyond their reach.
There is, generally speaking, a significant gender pay gap in the UK oil and gas industry. This is heavily influenced by the fact there are fewer women in engineering roles as well as other high-up positions. Do you see similar issues in the US? Clearly there is no overnight solution but what might be done to address this?
It's true that we don't see as many women in higher level positions in the energy industry in the US as we do men. But I'm glad to say we do see more. Just look at our BP America leadership. Our BP America President and Chairman is Susan Dio and our Gulf of Mexico is led by another female executive, Starlee Sykes. It's evident that the focus on gender balance is a business imperative at most companies today. I believe we are a great company for women and diverse populations to work for and there are certainly many initiatives across BP that are focused on developing talent. The challenge, as is often the case in large companies, is creating consistent awareness of the programmes and opportunities that exist.
One of the crucial steps to getting more women into engineering and science roles is through mentorship and continued support. I previously mentioned that our BP STEM Ambassador programme works with teachers and students to increase STEM learning and career awareness, and many times the introduction to engineering by a professional that shares a similar background or has a relatable story is just what a student needs to see a glimmer of hope where there previously was none. If a student doesn't have a scientist or engineer in their family, it is very likely that they may grow up unaware of the many career opportunities available. As for my personal development, BP has been very supportive with my career progression. For instance, a few years back I was provided the opportunity to work with an executive coach, and I've been given many opportunities to work with many BP leaders over the years.
Another key aspect in addressing gender balance is making sure we not only invite diversity but also make our workplace inclusive. A truly inclusive workplace to me is more than a look, it's a feeling. A feeling where everyone can be themselves at work and speak up. I really believe that diversity and inclusivity go hand-in-hand – you can't be inclusive if you are not diverse. And a diverse company that is not truly inclusive will ultimately not be successful.
Why did you decide to join the oil and gas industry? What advice would you give to young people considering a career in the sector?
Throughout my career, my gut and my passion helped me decide what opportunity to take and where to go next. I wouldn't say I ever had a solid career strategy or really planned to join the energy industry. Opportunities have presented themselves and I've allowed that to guide my career path.
Before BP, I worked in Corporate Social Responsibility in the financial services industry, where corporate acquisition required me to move myself and my son to Houston, Texas. After almost two years, I was approached by a friend who mentioned that BP had a role they believed I would be perfect for. I did my research on the company and of course came across a lot of information regarding Deep Water Horizon. I asked myself at that time whether BP was a company I wanted to work for and the answer was YES, it was exactly the kind of company I wanted to work for. I admired the way BP responded to the catastrophic incident – I fully believed the company worked to do the right things and I still do today. I am proud to work at BP.
The advice I would give young people today is to work in the moment and do the best you can –at all times. This industry is exciting, rewarding and I highly recommend it. But more important than the industry you end up in is that you need to believe in yourself – even on those difficult days. It's essential you have faith in your abilities and confidence in yourself – don't doubt your capacity to 'bring it' or make it happen. Feeling doubt and fear is natural, but don't let those feelings stop you from taking action.
What do you see as some of your proudest achievements in the industry?
I will always say that our work with students is my proudest achievement at BP. Last year we launched the BP Global STEM Academies which provide 100 scholarships globally for students aged 15 – 17 to attend a study abroad summer academy focused on STEM learning, integrated with a global competence and cultural awareness curriculum. There are three sites for the academies: Egypt, Brazil and the United States. The students work in global teams to solve real-world problems. It's truly a life changing experience that brings STEM to life and provides students with an opportunity to work with a globally and culturally diverse peer group. I think ultimately, this is among my proudest achievements – because we live in global world and we must work together if we are to prosper and find solutions to the most pressing issues of our time. The BP Global STEM Academies brings that experience to life for 100 students each year.
Recommended for you

Video: Aberdonians voice opinions on future of oil and gas