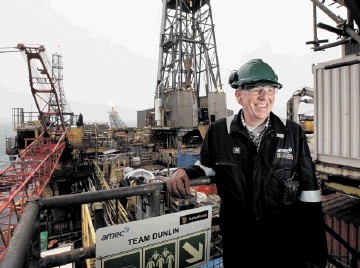 Had it not been for Ian Sharp's passion for diving, he could have opted for a life in the classroom.
His father advised him to take a job which offered a lifetime career, such as being a teacher, but when a good friend at Mr Sharp's diving club suggested the oil and gas industry, the attraction of the then-fledgling sector proved irresistible.
"I was a keen diver and spent most of my weekends in or under the North Sea, so the intrigue of working offshore seemed very natural to me," said the 55-year-old.
After a career in the oil and gas industry spanning three decades, Mr Sharp is now chief operating officer at Fairfield Energy, the Aberdeen-based operator which took on the Dunlin platform in 2008.
The firm has since invested £200million in extending the life of the 33-year-old installation and increasing production.
Mr Sharp predicted Fairfield had added a further 10 years of profitability at Dunlin, where production has increased from 3,000 barrels of oil per day (bpd) when it bought the asset to a potential 10,000 bpd, which it hopes to reach in the first half of next year.
The former Aberdeen Grammar School pupil said the acquisition of Dunlin had been a life-changing event for Fairfield.
Ian Sharp Q & A:
What car do you drive?
Nissan Murano.
What's your favourite restaurant?
Tresor Belge, a small restaurant tucked away south of the Loire in France.
What's your favourite place to go on holiday?
Our home in France.
Have you ever broken the law?
Not knowingly.
What or who makes you laugh?
My family, where it's usually laughter borne out of pride, followed closely by Jeremy Clarkson.
What's your favourite book?
Off The Planet: Surviving Five Perilous Months Aboard the Space Station Mir by Jerry Linenger.
What's your favourite film?
Apollo 13.
What's your favourite singer/band?
Music by Hans Zimmer, the award-winning composer of movie scores including Rain Man, Gladiator and The Lion King.
When you were young, what career did you fancy?
Doctor.
What's your ideal job, other than this one?
Space shuttle commander.
What's the best piece of business advice you have received? Always treat others the way you would like to be treated.
Worst business advice?
Don't worry about the details, they look after themselves.
What do you drink?
I love tasting different beers.
How much was your first pay packet and what was it for?
I don't recall the amount, but it was brought to me in a small brown envelope with holes both sides so that I could see and count the small change it contained.
How do you keep fit?
Regular attendance at the gym and cycling on holiday.
What's your biggest extravagance?
Regular breaks to our home in France.
With which historical or fictional character do you most identify?
Whoever first said "failure is not an option".
If you had £1million to give away, what would you do with it?
Look very carefully to make sure that whichever charity received the money put it directly to charitable use.
How would you like to be remembered?
As someone who did what he said he would do.
"Taking on a mature installation like Dunlin was a bold, ambitious step to take, but we are comfortable with taking those steps," he said.
While Fairfield is focused on maximising Dunlin's potential, its portfolio also includes stakes in Clipper South and the block which contains Crawford and Porter.
Mr Sharp added: "We are also looking at the redevelopment of the north-west Hutton field, now known as the Darwin development, and are looking at the opportunity to drill three appraisal wells on Darwin in 2012.
"If successful, Darwin could be one of the biggest developments in the northern North Sea for around 20 years."
Mr Sharp joined Fairfield last year after spending four years with Canadian operator Nexen as director of UK operations. He said the move from Nexen, which employs 1,200 full-time and contract staff in the UK, to a company with a 50-strong workforce was a dramatic change.
He added: "I loved working at Nexen, but at the same time I was working for a Canadian company.
"In comparison, Fairfield is a UK company with UK management. It is an opportunity to create something which I feel is unique in the North Sea at the moment."
Fairfield has attracted hundreds of millions of pounds of funding from private investors, but soon after Mr Sharp's arrival at the company it withdrew an initial public offering (IPO) after plans to raise up to £340million from a flotation were hampered by the uncertain global economy.
Mr Sharp said lessons had been learned since the withdrawal and said Fairfield had since focused on its strategy and attracted funds from new and existing investors.
He said: "We did not float, but we used the opportunity it presented to great advantage in terms of preparing for the future when we conducted our review of the business.
"Another IPO is something we have not dismissed, it is part of our toolbox, but it is not right to contemplate it in the short-term. It is an option for the future."
After graduating with a degree in geography and geology in 1978 and turning down a place at teaching college, Mr Sharp worked for a string of operators and service firms until he joined Premier Oil and moved his family to Indonesia in the mid-90s.
Mr Sharp said his family enjoyed living in Jakarta and had the opportunity to fulfil their mutual love of diving; he met his wife, Katrine, when she joined the diving club at the Bon Accord Baths in Aberdeen, where he was a diving instructor.
Unfortunately, the family, including Mr Sharp's daughter Naomi and son Calum, had to leave Indonesia after two years when political unrest led to riots, violence and ultimately the fall of President Suharto.
Mr Sharp said: "The kids were stranded at their school and the city was described as being on fire.
"We had to do a 4am dash to get them back once it was safe to do so and a few days later they were evacuated to Singapore."
Since returning from Indonesia in 1999, Mr Sharp has remained in the north-east and focused on the North Sea industry.
He said the sector had seen many changes in that time, and looking ahead predicted there would be further rationalisation of assets in the basin.
He pointed to the recent £1.1billion sale of ExxonMobil North Sea assets to Apache as evidence the majors were reassessing their UK portfolios.
He said: "There is the potential for more assets changing hands and we want to position ourselves to benefit from that. The environment we operate in now is difficult, both fiscally and from a broad business perspective, but there is no question in our minds that the opportunities are there."
On the UK Government's decision to raise the tax rate for UK operators, Mr Sharp said he appreciated that everyone had to contribute to solving the economic crisis, but added there were other areas of the fiscal regime Fairfield was concerned about.
"The tax treatment for decommissioning is an absolutely critical area, not just for Fairfield but for any similar companies in the future," he said.
"We have to be sure about how that liability is going to be dealt with in the years to come."
Mr Sharp said that new technology in exploration and production would ensure the future of the basin however, and added Fairfield was in a strong position to continue its success in the region. He said: "I am proud of what has already been achieved in very difficult circumstances and I'm glad I took the chance to be a part of that.
"We aim to be a UK independent of substance and plan to be here for the long term."