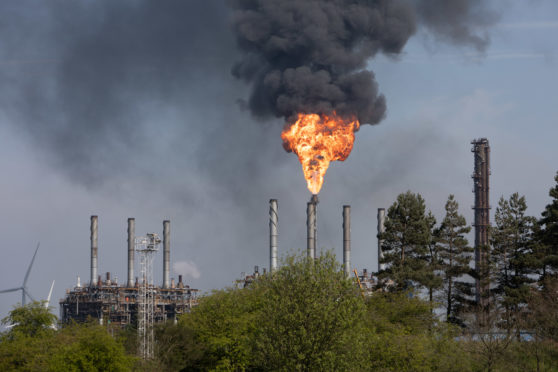 Flaring at the Mossmorran chemical plant in Fife will continue into this week.
Thick black smoke was emitted from the complex near Cowdenbeath on Sunday after a steam generating boiler broke down.
Since then, flaring has continued during the plant's unscheduled shutdown.
Fife Ethylene Plant operator ExxonMobil has apologised to local residents and maintains that the flaring poses no risk to local communities or staff at the plant.
However, many local residents are losing patience with ExxonMobil, with each episode of flaring prompting complaints relating to noise, vibration and light pollution.
Green MSP for Mid Scotland and Fife Mark Ruskell accused ExxonMobil and the Scottish Environment Protection Agency (SEPA) of not taking enough notice of local concerns.
"Once again, people's lives are being significantly disturbed by this ageing chemical plant and a flare visible from all the way over in Edinburgh," he said.
"What should have been a relaxing Easter weekend has become a distressing few days for the communities around the plant.
"The plant operators and the regulator simply aren't listening to people's genuine concerns on this. The air pollution will likely dissipate quickly, but the noise and light from the flare burn into people's homes 24 hours a day."
The Mossmorran Action Group has called for the installation of permanent air quality monitoring equipment and an independent study into health and social impacts.
James Glen, who chairs the group, said: "SEPA have never used their full legal powers against ExxonMobil for operational failures and environmental damage because they judged that the operator was putting in place robust best available techniques for preventing emissions and impacts on the environment.
"SEPA should waste no more time in using the full legal powers at its disposal to hold ExxonMobil to account."
Lesley Laird, MP for Kirkcaldy and Cowdenbeath, described the latest unplanned shutdown at the plant as "hugely disappointing".
She added: "I've been in touch with the plant operators this morning and understand a faulty cable, which has now been fixed, led to this incident and I am assured that the plant is safe.
"Given this weekend's flaring I'll be seeking further reassurances that the plant is fit for purpose and all reasonable steps have been taken to prevent future episodes."
The smoke was seen billowing in the direction of Cardenden and Lochgelly almost exactly a year since ExxonMobil and Shell UK, which operates Fife NGL Plant at Mossmorran, were served final warning letters by SEPA following previous flaring episodes.
A SEPA investigation into unplanned flaring at Mossmorran during 2017 and 2018 has been completed and the findings are expected to be published imminently.
SEPA CEO @TerryAHearn is coordinating the response to unplanned flaring from @exxonmobil_fep. He describes how we are measuring the impacts on the local community and working with the operator to reduce flaring as quickly as possible. More information: https://t.co/3pqoq6e2ZQ pic.twitter.com/ZKRJFWbCjW

— SEPA (@ScottishEPA) April 22, 2019
SEPA said air quality and noise impact would be monitored for the duration of the latest flaring.
ExxonMobil said the murky plume was caused by a loss of steam and insisted there was "no danger to the local communities".
A spokesperson said engineers had worked through Sunday night to get the plant back in operation.
A spokesperson for ExxonMobil Chemical Limited said: "Our team continued to work through the night to bring the plant back to normal operations.
"Given the significant work required to achieve this, it will take a few days to complete.
"During this time we will, unfortunately, need to continue flaring.
"Our team is working hard to minimise flaring and timescales, as we understand the obvious disruption flaring has on our communities.
"We thank stakeholders and communities for their understanding and patience."
Recommended for you

Exxon starts up third Guyana FPSO, on track to double production