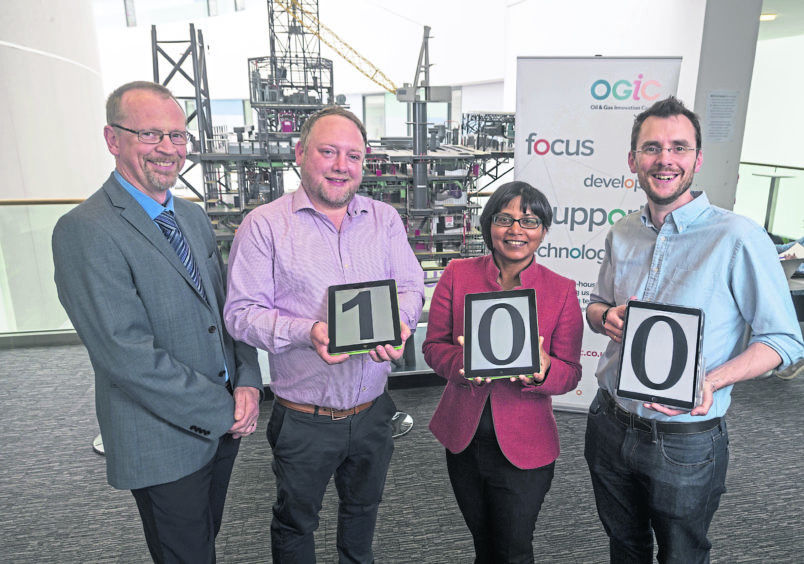 The Oil and gas Innovation Centre (OGIC) has announced the signing of its 100th project, taking the total it has invested in technology development for the industry in the past five years to £6million.
The centre's latest agreement will see it support Aberdeen-based Targe Environmental Consulting to develop cost saving decommissioning materials management software.
Using artificial intelligence (AI), the aim of the system is to greatly increase identification of material that can be re-used on oil and gas assets that are destined to be dismantled. It will include the capability to re-sell reusable items and materials that can be recycled. Targe will work with Robert Gordon University's (RGU) School of Computing Science and Digital Media to develop the software.
At the end of the 12-month project a fully-functioning prototype of the new system will have been developed, the OGIC, which is based at Aberdeen Innovation Park, in Bridge of Don, said yesterday.
The announcement of its 100th project follows OGIC singing agreements to support the development of five new pieces of technology, which the centre believes have the potential to improve efficiency and reduce costs in the oil and gas industry. The diverse range of schemes include a system to detect marine mammal activity, new drill bit equipment, an additive manufacturing process and research into polymers for pipeline coatings.
OGIC chief executive, Ian Phillips, said: "The signing of our 100th project is a significant milestone and is testament to the current appetite across the industry to develop both new and disruptive technology.
"We are increasingly seeing a recognition that the only way to make operations more efficient and cost-effective is to develop innovative ways of working."
OGIC was launched by the Scottish Funding Council, in partnership with development agencies Scottish Enterprise (SE) and Highlands and Islands Enterprise (HIE), to provide the oil and gas industry with a single access point to the capabilities of Scottish universities.
Among five new projects being supported by the Oil and Gas Innovation Centre (OGIC), Aberdeen-based Rigocal will work with Edinburgh University's High Performance Computing Centre (EPCC) to develop an automated system for detection of marine animals.
During operations such as seismic survey work and pile driving, operators must monitor mammals within a 1,640 foot zone.
Rigocal's planned system would provide an automated alternative to the marine mammal observers who have traditionally carried out the task using binoculars and passive acoustic monitoring (PAM).
Aberdeen University has teamed up with city-based Varel UK for the development of a new polychristalline diamond compact (PDC) drill bit, which will combine shearing and gouging actions. OGIC is supporting phase two of the project, which will lead to the development of a prototype that can then be used in commercial drilling operations.
Engineering consultancy Crondall Energy, which has offices in Aberdeen's Bon Accord Square, is partnering with Edinburgh's Heriot-Watt University in a project to improve the oil and gas industry's understanding of the coatings used within pipelines. OGIC said the work had the potential to reduce the costs of subsea developments and make marginal field developments more economical.
TechnipFMC is also working with Strathclyde University's Advanced Material Research Laboratory (AMRL) on a wire arc additive manufacturing process for its additive manufactured product range.
OGIC chief executive, Ian Phillips, said: "Our most recent projects are excellent examples of the range of applications and opportunities which exist across the sector for developing innovative technology.
"They also highlight the vast amount of expertise and knowledge which exists within Scottish Universities."
Recommended for you

Heriot Watt launches 'pioneering' Energy Transition MSc