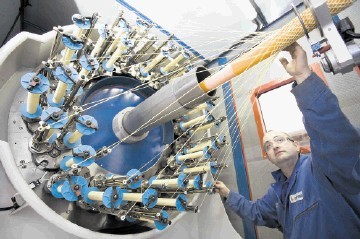 Oil service firm Hydrasun yesterday revealed strong growth in both domestic and international markets.
Chief executive Bob Drummond said that, for the financial year to date, there had been a rise in sales of 25% on the previous period.
He said: "We always felt the move to our new £12million headquarters and production facility in January this year would be a launch pad for further growth.
"We continued to invest in the company during the tough market times around two years ago and this gave us the strong foundations to continue to expand.
"The internationalisation of our business and the development and marketing of specialist services and products complementary to the established core products have helped us achieve our key growth targets."
Hydrasun is a specialist provider of integrated fluid-transfer, power and control services to the global energy market.
In October, it was recognised at the Northern Star Business Awards for its achievement in international markets.
During the first six months of this financial year, Hydrasun saw more than 30% growth in international sales year-on-year – rising to 23% of total sales.
Mr Drummond added: "When we moved to our new facility we intimated there would be a number of key developments; there would be an international acquisition, significantly more jobs and we would hit a turnover of £80million for the year to the end of March 2012.
"We are achieving those developments. In November, Hydrasun acquired Remaq in Brazil, which has opened up significant opportunities in the offshore Brazil market.
"Our global staff numbers have increased by more than 100 in the past 12 months to 550-plus and, with sales up 25% on the same time last year, we're well on track to hit the turnover target."
The exact value of the acquisition of Macae-based Remaq was undisclosed, however, it is thought to be about £5million.
The Brazilian business, a provider of flexible hose assemblies, now trades as Hydrasun Remaq.
Hydrasun, now based at Aberdeen Gateway Business Park, Altens, said it had recently won key contracts both in the North Sea and overseas. It exports to more than 50 countries and, in addition to Brazil, has international operational bases in Azerbaijan, Kazakhstan and the Netherlands plus a presence in west Africa, the US Gulf of Mexico and Middle East.
Mr Drummond added: "Hydrasun will keep developing and evolving; it has to in order to meet the needs of our customers.
"We will continue to grow the business in line with our plans for the next stage in our development."
Recommended for you

Italy mulls support for fossil fuels despite climate promise