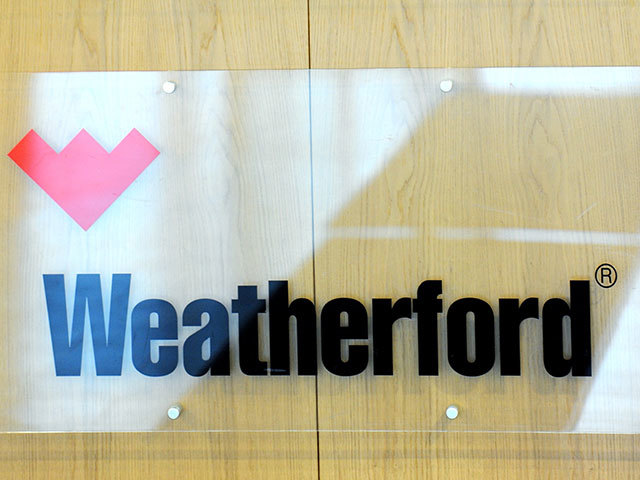 Oilfield services company Weatherford International has entered into an agreement with its top creditors that will allow the company to file for a "prepackaged" Chapter 11 bankruptcy — after more than four years without making a profit.
Weatherford said late Friday that the company had reached an agreement with creditors that hold 62 percent of a type of debt known as unsecured senior notes. Although not backed by company assets, unsecured senior notes have greater seniority and pay higher amounts of interest than other forms of debt.
The agreement allows the company, which has principal operations in Houston, to shed $5.8 billion of its $7.6 billion in long-term debt — in exchange for 99 percent of the stock in the reorganized company. The agreement also provides the company with $1.75 billion in fresh credit and loans.
Weatherford expects to implement the agreement through a "prepackaged" Chapter 11 bankruptcy filing in the United States and similar proceedings in Ireland.
In a statement, Weatherford CEO Mark McCollum said high levels of debt hinder the company's ability to invest in growth and prevent it from completing a Feb. 2018 transformation plan. The agreement, he said, would improve the company's balance sheet without interrupting operations, vendors, customers and employees.
"We expect a restructuring will provide us with improved liquidity and greater financial stability and flexibility to make investments to enhance our platform while we continue to invest in the resources necessary for our business to grow," McCollum said. "We are confident that these steps will allow us to continue our transformation journey and position Weatherford for long-term success."
Weatherford was originally supposed to release its first quarter earnings and host a conference call for investors early Wednesday morning. But the company abruptly canceled the investors calls on Tuesday and postponed the release of its first quarter results until Friday.
The company reported a $481 million loss in the first quarter, widening from $242 million loss from the same period in 2018. Revenues slipped to $1.35 billion of revenue during the first quarter from $1.42 billion a year earlier.
In a late Friday afternoon filing with the U.S. Securities and Exchange Commission, Weatherford painted a dismal financial during the first quarter and a bleak outlook for the rest of the year.
Among other factors, the company attributed the year-over-year declines to weak energy sector conditions in Canada, weather-related disruptions in the United States, Europe and Russia as well as project startup costs and an unfavorable impact from foreign exchange in Argentina.
Weatherford has not made a profit since the third quarter of 2014. With a bleak outlook for demand during the rest of 2019, the company reported that it is supplementing its operations with cash from investing and financing activities.
"These uncertainties have impacted our company in several ways, including the retention of our key personnel, access to debt and equity credit at suitable terms, our level of working capital and our ability to execute within our targeted timing on our transformation," Weatherford officials wrote.
The first quarter results and SEC filing come less than two weeks after the company's board of directors released a ballot asking stockholders to approve a reverse stock split plan to prevent the company from being delisted from the New York Stock Exchange.
Under the proposed 1-for-20 ratio, the roughly 1 billion outstanding shares of Weatherford stock would be reduced to just over 50 million shares — increasing the remaining stock's value.
Weatherford's stock has been trading below $1 per share since Nov. 13. New York Stock Exchange officials issued a delisting warning in December and gave Weatherford six months to improve its dismal stock performance. Weatherford's stock closed at 37 cents a share Friday.
Founded in Texas, Weatherford is one of the largest oilfield service companies in the world. The global company had 67,000 employees at the beginning of 2014 but today, it employs around 26,500 people in 80 nations. The company has seven locations in Texas, including four in the Houston area.
The company posted a $2.8 billion loss on $5.7 billion of revenue in 2018. Under a transformation plan released in Feb. 2018, the company has sold off its non-core assets and now focuses on drilling equipment and digital services.
This article first appeared on the Houston Chronicle – an Energy Voice content partner. For more from the Houston Chronicle click here.
Recommended for you

Campaigners to protest 'immoral' Equinor profits in London and Aberdeen