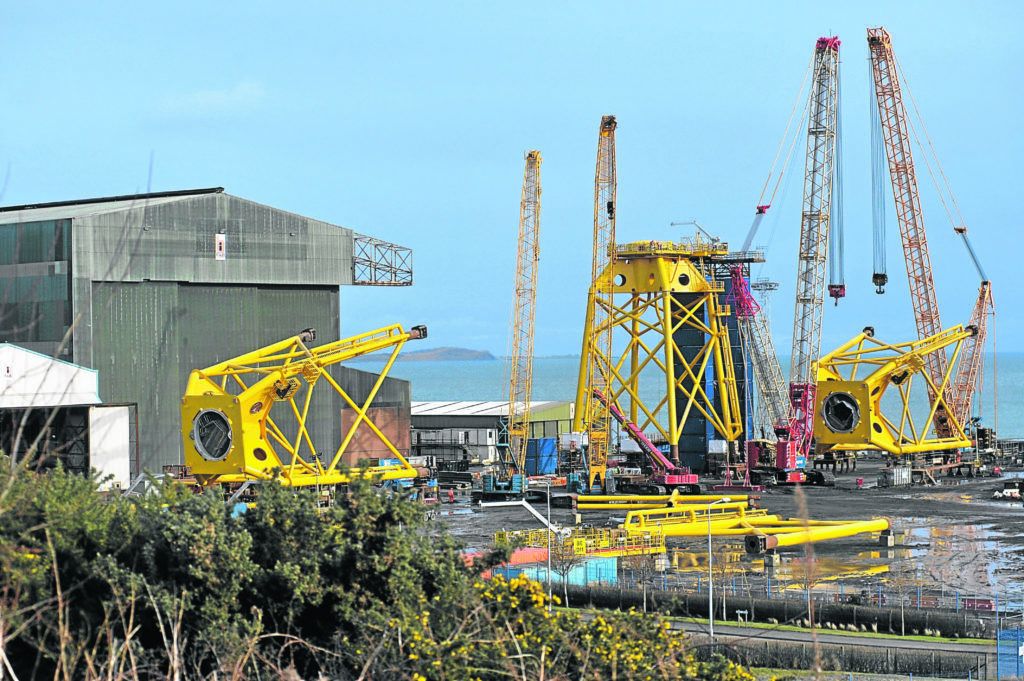 Troubled manufacturing firm Burntisland Fabrication (BiFab) needs to "actively look to attract" oil and gas decommissioning work after losing out on another multi-million wind farm contract, a leading energy analyst has said.
The multi-million Neart Na Gaoithe (NnG) offshore wind fabrication contract looks to have been agreed with Italian oil and gas contractor Saipem.
The majority of the deal for the manufacture of 53 turbine jackets looks to be destined for the firm's base in Indonesia.
The £2 billion NnG project was viewed as a lifeline for BiFab by unions, politicians and staff.
The firm also recently missed out in big fabrication contracts for the Moray East and Kincardine wind projects.
But BiFab owner DF Barnes has a solid reputation in Canada and Newfoundland for oil and gas and decom work.
Ben Wilby, a senior analyst at Westwood Global Energy Group, said he believes oil and gas decommissioning work will now need "to be something the company focuses on and actively looks to attract".
He said: "I know the owners have said they are looking at oil and gas decommissioning work as a key area in the future.
"With the awarding of these large contracts to yards elsewhere, it looks likely that decommissioning will have to be something the company focuses on and actively looks to attract.
"I think it's fair to say that decommissioning has the potential to be one of the largest offshore industries in the coming years and there is a huge amount of tonnage that needs to be removed and processed onshore."
Mr Wilby claims it is important for BiFab to rebuild up it's reputation quickly in the energy sector and decommissioning offers the potential for repeat work.
With a volume of "challenging work", Mr Wilby claims BiFab will need to be "competitive in terms of capability and quality of work".
He said: "The benefits of focusing on decommissioning are numerous, chief among them is the size of the prize.
"The amount of infrastructure off of the UK is huge and (in theory) most of it will need to be processed at local yards.
"On top of this, the decommissioning industry is still quite new in the North Sea and the two most important pillars for operators when it comes to decommissioning are cost and safety, so getting a strong reputation for completing projects safely and efficiently at the industries early stages will likely see a yard continue to get work.
"It is worth noting that there are many large, complicated structures that were never designed to be decommissioned."
Asked how big the market could be for anyone looking to do business in the sector, Mr Wilby said: "In the UK alone, there are over 300 fixed platforms that will require decommissioning, along with associated equipment on the seabed.
"The average age of the platforms offshore the UK is 28 and many of the larger platforms (such as the Brent platforms) are considerably older than that as well.
"And with the increasing age, comes increasing maintenance costs. As a result of this, the amount of decommissioning to be completed annually is likely to increase strongly throughout the 2020's and beyond."