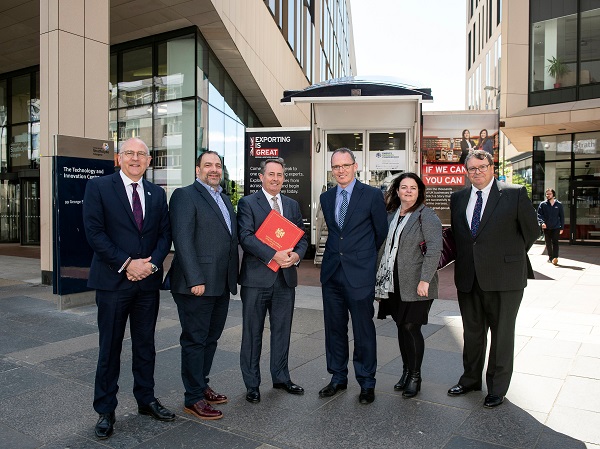 With just under one month to go until the Energy Exports Conference in Aberdeen on 18-19 June, International Trade Secretary Dr Liam Fox MP opened the Hub Energy Exports Tour in Glasgow on 24 May to share exporting opportunities with Scottish energy businesses.
The Department for International Trade's (DIT's) Export Hub, part of the UK government's Exporting is GREAT campaign, was stationed from 10:00 to 14:00 at the University of Strathclyde, which currently sits on the strategic group leading the development of Glasgow City Innovation District – a hub for entrepreneurship, innovation and collaboration in science and industry.
Hosted in partnership with the Energy Industries Council (EIC) and Scottish Development International, DIT's Hub Energy Exports Tour features industry and government speakers, one-to-one meetings and networking opportunities. Global trade experts from DIT will also provide businesses with advice and insight into exporting opportunities.
Secretary of State for International Trade and President of the Board of Trade, the Rt Hon Dr Liam Fox MP, said, 'I am delighted to have visited the Hub Energy Exports Tour in Glasgow and met so many ambitious businesses. In 2017-18, 81% of all UK oil and gas was produced in Scottish waters, which demonstrates Scotland's value and contribution to our energy industry.
'My international economic department is committed to supporting the UK energy supply chain and providing exporting opportunities for businesses to expand into new markets globally.'
Speaking in Glasgow, EIC CEO Stuart Broadley said, 'As the leading trade association for energy companies that want to expand into new markets around the world the EIC is delighted to take part in Hub Energy Exports Tour.
'We'll be on hand at all the stops to highlight emerging markets and global projects which require UK products and service, explain how to win work on these developments, as well as provide practical advice on how to do business in different countries around the world.'
The Hub Energy Exports Tour will stop in at the Decom Offshore event at the AECC exhibition centre in Aberdeen on 29 May (10:00 – 14:00), followed by the Fife Renewables Innovation Centre on 30 May (10:00 – 14:00) and the Oil & Gas International Training Academy Redcar & Cleveland College in Teesside on 3 June (10:00 – 14:00).
Recommended for you

Bangladesh seeks contractor to build first onshore LNG terminal