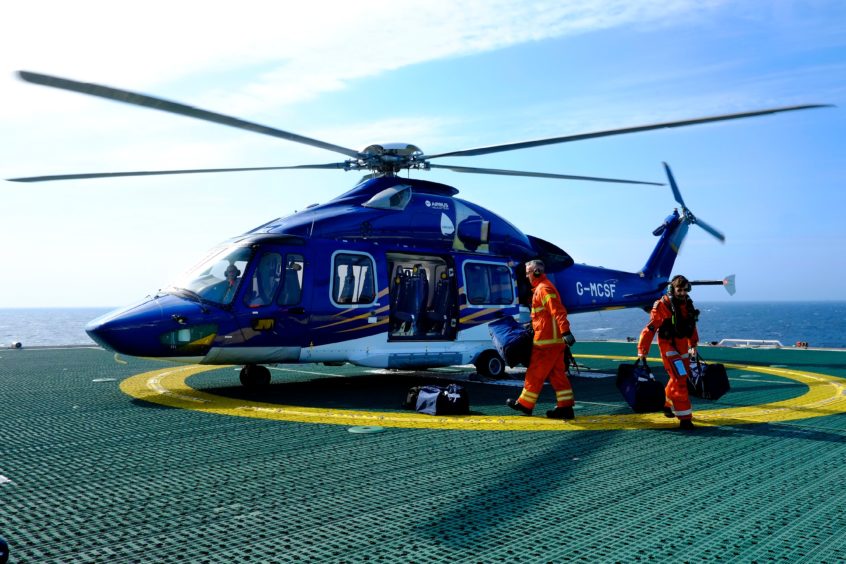 North Sea flights were disrupted yesterday after a "crack" was detected on part of a helicopter operating out of Aberdeen.
The fault was spotted during a safety check on the "horizontal stabiliser" of an H175 aircraft operated by Babcock.
The helicopters were not "grounded" by aviation authorities but manufacturer Airbus sent out service bulletins requiring inspections and imposing speed restrictions.
Babcock decided to halt its H175 flights and made alternative arrangements for affected passengers after discovering the problem.
And NHV, whose entire Aberdeen fleet is made up of H175s, also opted to "pause" flights from the Granite City as a safety precaution.
Around eight of the 70 helicopters active in the North Sea are H175s, according to industry body Oil and Gas UK's most recent health and safety report.
NHV base manager Jamie John said no faults had been found on the firm's fleet following initial inspections and was confident the issue was an "isolated" case.
Mr John added that he expected to return to full service today, and the company's website shows a number of flights have already taken off this morning.
Babcock's spokesman said the company wouldn't rush a return to service.
A spokesman for Airbus Helicopters said: "We have issued a service bulletin to H175 operators calling for a temporary reduction of the maximum allowable speed of the helicopter.
"This follows the detection of structural damage during routine inspections of the horizontal stabiliser on a customer helicopter.
"This initial service bulletin will be followed shortly by another one calling for fleet-wide inspections of the affected part.
"As is standard practice, these precautionary measures will be followed up by European Aviation Safety Agency-mandated airworthiness directives.
"We are in direct contact with our customers to minimise the impact on their operations."
The UK Civil Aviation Authority said it would liaise with UK operators to "ensure they are able to comply" with the airworthiness directives.
Meanwhile, Babcock confirmed that crew on one of its Sikorsky S-92 copters asked for a "priority landing" at Sumburgh this morning while it was en-route to the airport.
Babcock's spokesman said the aircraft "landed as normal".
S-92s account for about half of the UK North Sea helicopter fleet.
Recommended for you

Interview: Anasuria on 'exciting' first year as North Sea duty holder