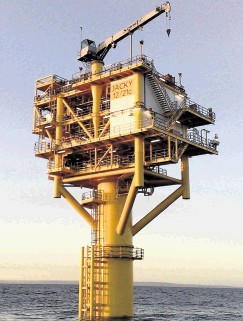 What do a Tudor rose, a buzzard, Spaniards, Basil, Polly and Manuel have in common? More than you might think.
The first three are names of pubs and rest are the names of characters in the television sitcom Fawlty Towers.
They are all also the names of oil or gas fields or prospects in the North Sea.
But how? It would appear there is a mix of whim, superstition, local connections and even an occasional play on the characteristics of the field itself.
Naming a field is not an easy task, says ex-Dana Petroleum chief executive Tom Cross, who now leads Aberdeen-based independent Parkmead Group.
"In the early days fields were named after director's wives and girlfriends but fields became so prolific it is not so easy to find a repeat formula," he said. "It depends on how many fields you think you might have. Also, when you are exploring you need a bit of luck.
"We named our exploration targets after Scottish hills.
"We had a run of discoveries with Scottish hills and we didn't want to change that formula."
It was not just the name, however. The trick was, he said, the exploration team walked each hill before drilling the target.
One, Rinnes, proved particularly successful with multiple finds which are being developed under a new name: the Western Isles development, consisting of several fields now named after Scottish islands.
However, while it was an easier task in the early years – easy pickings like Scottish munros, rivers, saints or towns – there were nearly some close calls with names.
According to legend, Shell originally started to name its fields alphabetically, starting with AUK and then BUK, CUK and so on.
The AUK field soon became pronounced as a word – Auk – but someone realised there could be an issue when it got to the sixth letter of the alphabet.
Luckily, Auk is also a seabird, and so Shell's first theme, seabirds, was chosen.
More recently the Department of Energy and Climate Change (DECC) asked for the Barbarossa field to be renamed.
Alan Booth, chief executive of EnCore, said while it is thought it was named after a medieval German king, Barbarossa was also the name of a German operation to attack the Soviet Union during World War II, which DECC was not too keen on.
It did not like the alternative of Barbarella either so a decision made to call it Ceres, after the dwarf planet, because the southern North Sea field is close to fields called Neptune and Mercury.
A similar fate befell a nearby field, which was going to be known as Channon after Norwich City footballer Mick Channon. It became another dwarf planet, Eris.
Picking a theme is not the only problem. There have been disputes over the names of fields that cross boundaries.
The Scott field, for example, is named after the author and the civil engineer, to suit the naming conventions of both operators involved.
Perhaps unsurprisingly, one theme that has united several operators is whiskies, now popular for prospects and fields west of Shetland.
Pubs and motorbikes
Alan Booth, chief executive at EnCore, said it was at EnCana that the theme of pub names was used.
The Buzzard field is often wrongly assumed to be named after the bird.
It was actually named after Buzzard's Bar in 10th Avenue in Calgary, frequented by the firm's geologists. The bar has a shrine to the oil field inside it and will be marking the 10th anniversary of its discovery with a party this month.
Most of the rest of the fields the firm has been involved in naming have either been pubs in the Chilterns and London or motorbikes.
From the Chilterns are pubs – and now fields – called Pink, Blackbird and Pole Cat.
Catcher is named after the Catcher in the Rye in Finchley. The Tudor Rose, Beehive and Barley Mow are pubs close to EnCore's London office and Spaniards is a pub in Hampstead Heath.
Among its two-wheeled fleet are the Varadero (a Honda), Burgman (a Suzuki), Carnaby (Piaggio), Bonneville (Triumph) and Laverda; mostly motorbikes and scooters owned by the team at EnCore.
Munros
Famously BP has named fields after munros. Schiehallion was named after the munro in Perth and Kinross near Ben Lawers. Its name is an anglicised Gaelic name which is translated as Fairy Hill of the Caledonians.
Controversially, it has been debated whether Foinaven, another floating production development west of Shetland, but also a munro in Sutherland, is a munro or not.
Ships
Shell has a fleet of ships in the southern North Sea including Cutter, Barque, Clipper, Corvette, Skiff, Galleon, Brigantine and Caravel.
People
A now well-known prospect called Cladhan, had in fact initially been named Bowstring East in homage to EnCore's then boss, Stewart Gibson; although he only found out about the anagram of his name recently.
John Woods, now chief development officer at Ithaca, said the Scott field originally had two names.
Hess had carried on a tradition started by Monsanto naming its fields after the novels of Sir Walter Scott, with Waverley. However, Amoco, which then named its fields after famous engineers, called it Brunel.
They came to a compromise and picked Scott, after the author, but also another Sir Walter Scott, a civil engineer born in 1826 who among other things built the first "deep" underground railway in London from King William Street, under the Thames to Stockwell.
The Beryl field, sold recently to Apache by ExxonMobil, was discovered in 1972 and named after Beryl Solomon, wife of Mobil Europe president Charles Solomon.
Other Mobil fields were also named after wives of executives and it is rumoured Oilexco named some of its prospects after wives and girlfriends.
BP named some of its fields after saints, including St Andrew, St Ninian, St Machar, St Monan, St Mirren, St Magnus and St Marnock.
ConocoPhillips named some of its fields after famous geologists, including Scots Sir Roderick Murchison and James Hutton.
If you have any other oil or gas field story names, tell us. Email elaine.maslin@ajl.co.uk