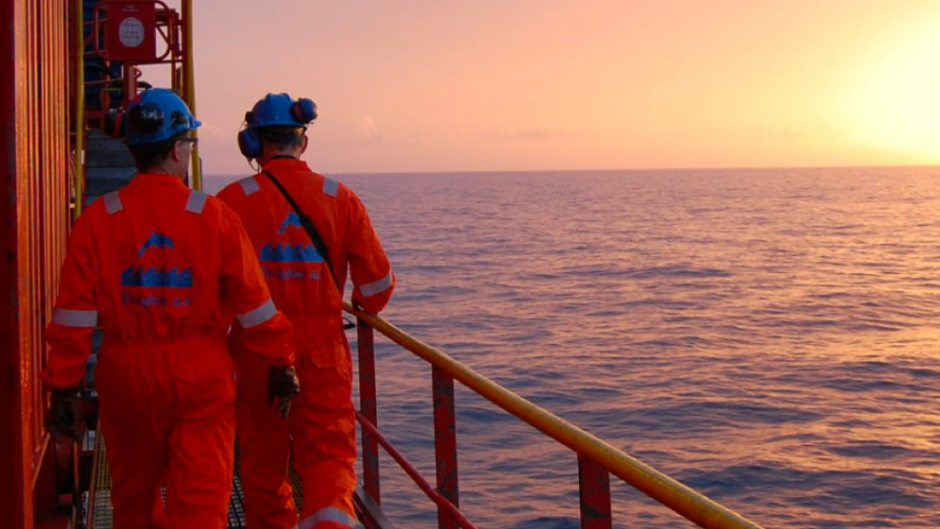 Norwegian-headquartered company Dolphin Drilling ASA has filed for bankruptcy, but has transferred all operating subsidiary businesses into a new holding firm.
It said the new company, Dolphin Drilling Holdings, is incorporated on the island of Jersey and "will be net-debt free".
It has also appointed new management.
The original firm held nearly £600 million worth of debt, which it claims has now been eliminated from its balance sheet.
The drilling contractor added that the restructuring would now "enable it to move forward and deploy its rigs into the attractive UK and Norwegian markets".
Dolphin Drilling said the Aberdeen office of the company is "not connected".
Creditors of Dolphin Drilling have now demanded payment for all outstanding debts associated with the firm.
It is understood the company's new majority shareholder, Strategic Value Partners (SVP) Global will acquire the firm's debt.
The firm said SVP Global, along with fellow lenders including Danske Bank, DNB, SEB and Swedbank, have enforced on Dolphin Drilling's debt and have taken ownership of the company.
A representative for Dolphin Drilling in Aberdeen said: "It has nothing to do with the Aberdeen office at all, it's just in Norway."
In a statement today, Dolphin Drilling ASA said: "Regretfully, the creditors of Dolphin Drilling ASA have not been able to agree on the terms for a consensual restructuring, and the secured creditors have demanded payment of all amounts outstanding under the secured debt of the Company.
"As per the resolution of the board, the Company will file for bankruptcy today on 26 June 2019."
Bjørnar Iversen, incoming chief executive of Dolphin Drilling, said: "We are delighted that Dolphin Drilling has now emerged in a strong position for the future.
"In addition to the company's focused, nimble fleet and high-quality team, we now have the firm financial footing we need to win new business.
"I look forward to working with the team to ensure that the company fulfills its full potential."
Dolphin Drilling Holdings claim the new deal will give it a "strong balance sheet" and allow "increased financial flexibility."
It confirmed that Dolphin Drilling ASA has filed for bankruptcy today in Norway and "is expected to be wound down in an orderly fashion".
Jørgen Peter Rasmussen, incoming chairman of Dolphin Drilling, added: "This financial restructuring is a vital milestone in the resurgence of Dolphin Drilling.
"The solid platform it provides, and the backing from our new majority shareholder, means that the incoming leadership team, alongside all of Dolphin Drilling's highly experienced staff, can now focus on delivering top class services and value to our customers."
Recommended for you

Ithaca going public: Who else in the North Sea has launched stocks?