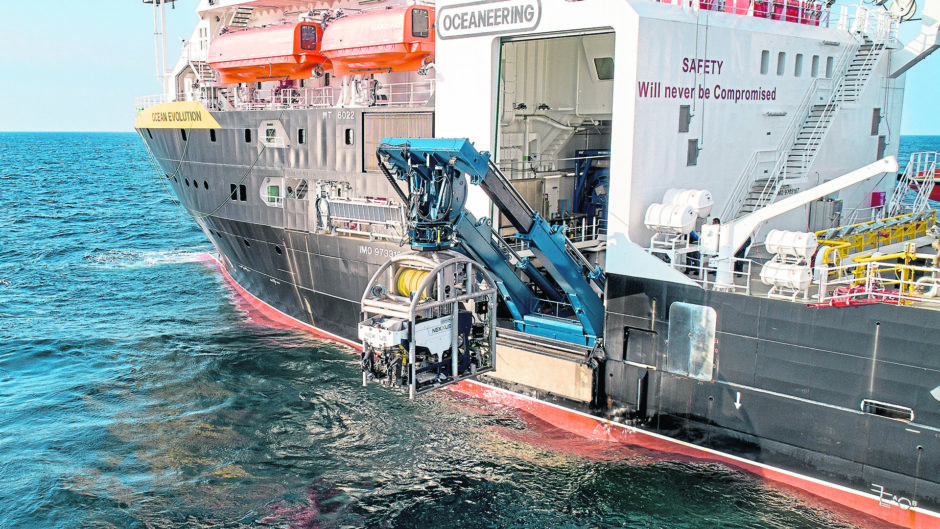 Following the drastic slowdown in the rate of new-build ship deliveries to the offshore oil and gas industry worldwide, it is good to be able to report on the latest addition to Oceaneering's fleet.
It has been four years since the US subsea specialist took delivery of its last fleet addition, the DSV/ROV support ship Brandon Bordelon, and seven since the Connor Bordelon.
Norwegian-designed Ocean Evolution is not one of those OSVs churned out by the mile as offshore delivery trucks. Like the rest of the Oceaneering fleet, this is a specialist ship and is Jones Act compliant.
Designated a multi-service vessel, Ocean Evolution is initially being offered to the US Gulf of Mexico market.
Among the vessel's service capabilities are ROV and diving operations; flowline, umbilical, and pre- and post-mat installation; hydrate remediation; subsea pumping; well stimulation and intervention; inspection, maintenance, and repair (IMR) activities; tree installation and removal; and well abandonment and wireline services.
The 107.6m Ocean Evolution is being marketed as an "ecologically-friendly" vessel and carries a so-called Green Passport. It is built for operational reliability, the heart of which is a family of five low-emission Tier 4 diesel engines with a combined generating capacity of 16 megawatts on a three-bus system. The fifth engine and third bus provide redundancy, allowing the vessel to stay on location and continue to work should a failure occur.
Ocean Evolution is equipped with two work-class remotely operated vehicles deployable from hangars located to port and starboard and integrated with the main superstructure. Each hanger is fitted with an active heave compensated (AHC) launch and recovery system.
Back home in the UK, Wight Shipyard Co (WSC) is breaking into the wind farm support vessel (WFSV) market with the launch of its new Vortisea brand.
The Vortisea brand, designed in collaboration with Australia's Incat Crowther, is specifically geared towards European and UK wind farms.
Vortisea has been designed to meet the latest standards in UK, German and Danish-Flag state requirements.
This is the first time WSC has ventured into the renewables sector.
The catamaran hull design is claimed to be exceptionally efficient, constructed from lightweight marine grade aluminium. It is initially being made available in two sizes and there are multiple propulsion machinery options including hybrid.
In US waters, where the offshore wind industry is poised for take-off, international design, engineering, science and risk management consultancy BMT has been awarded a crucial contract to design two advanced crew transfer vessels (CTVs) for that market.
The work was awarded via service contractor Windserv Marine at the behest of Orsted for its Coastal Virginia Offshore Wind Project.
BMT has designed the new 20m CTV specifically for US Eastern Seaboard conditions with manoeuvrability, performance and redundancy in mind whilst reaching a top speed in the region of 28 knots.
Carrying 20 passengers, plus four crew, the first CTV will be delivered early next year and is already under construction.
The second is earmarked for late 2020.
Recommended for you
X

Lyon result a 'huge disappointment' for Siccar Point and Ineos - analysis