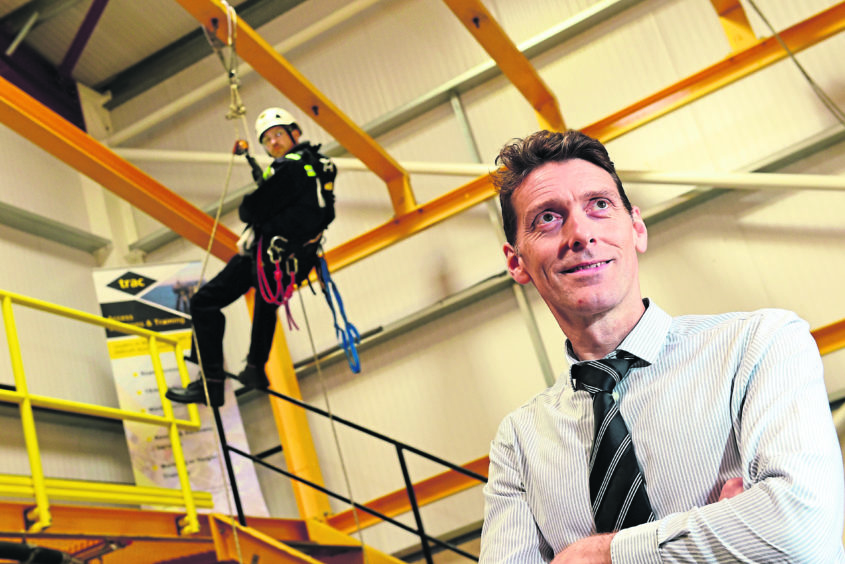 Trac Oil and Gas' boss believes the time is right to revisit the firm's international expansion plans after getting off to a false start several years ago.
Managing director Daniel Hawthorn said Trac came up with a strategy targeting overseas markets in 2014, just as crude prices were about to plummet.
Trac effectively had to "draw a line through" those plans and "stick to its knitting", which meant focusing on core activities closer to home.
Today, Trac, a provider of rope access inspection, repair and maintenance (IRM) services for the oil and gas industry, has a small operation in Brazil and a "legal presence" in Perth, Western Australia.
Mr Hawthorn feels the prospects are good for those two locations – and he is "looking hard" at West Africa.
While he is serious about growing the firm's footprint, the company's founder is conscious of the need to "pick the right targets" and make sure Trac can service its existing clients first.
Mr Hawthorn admitted that looking back to 2014 was "horrible".
He said: "In October 2014, we decided to invest in Brazil. Then the price went down.
"First the drillers were hit, then the operators, then the services companies.
"January 2016 was when the price hit rock bottom and project work dried up overnight.
It became non-existent.
"The work to keep the lights on continued and in 2016 we won two or three key contracts that kept us going through 2018."
Opportunities to work on new projects in the North Sea and overseas are cropping up again and Mr Hawthorn is excited about the future for Trac, which is in its 20th year.
He said the company had enjoyed another successful year, booking revenues of about £20 million for the 12 months to March 31, 2019, compared to £18.9m in 2017-18.
Margins are still tight, however.
"The oil and gas industry is still in recovery from the last four or five years of difficulties," he said.
"We're working twice as hard for half the money, but it feels like changes are happening in industry.
"There are plenty of good opportunities for this company."
The Dyce-based company is working with operators like Chevron, Premier Oil and CNR, as well as with larger contractors.
Mr Hawthorn is hopeful that Trac can capitalise on the entry of newer operators to the North Sea.
He also said Trac was continually developing its advanced non-destructive testing services.
When it comes to NDT, he said the company had the "best brains in the industry".
Trac is also "working very hard" on developing data management and artificial intelligence services to help clients get the best value from aging assets.
Furthermore, Trac, which started life in Mr Hawthorn's old flat near Pittodrie Football Stadium in 1999, is working with Air Control Entech on drone technology.
It's natural to think drone inspection companies would be a threat to rope access businesses.
Mr Hawthorn stresses that Trac isn't a dyed-in-the-wool rope access company, even though its name is an anagram of "the rope access company".
It's an IRM company, for whom rope access is an important way of getting to the coalface.
Mr Hawthorn said: "Rope access is just part of how we get to the work site. It's what we do when we get there that's important.
"We're not a rope access company, but it's important to what we do.
"We've been involved in that for 20 years and have seen it go from a niche method of access to the whole industry doing it.
"It's good to be part of that story. I've always recognised it's a not question of drones versus rope access.
"They're both just tools in the box to let you do the job effectively."
Recommended for you

Offshore workers who shed pounds highlight risks of industry weight gain