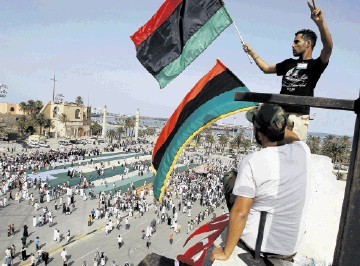 THE death of dictator Muammar Gaddafi could see Scottish oil industry firms return to the north African country.
It is not anticipated there will be an overnight restoration of business normality in the region however.
North-east firms, such as KCA Deutag, Expro and BP, had significant business in the oil-rich country before unrest broke out earlier this year.
Security analysts AKE Group said yesterday that Gaddafi's death "may be the turning point" for them to return.
Intelligence analyst Alan Fraser said there were already a number of major international oil companies which had returned to Libya.
Many were waiting for security to be guaranteed before sending workers back.
"A number of smaller companies with existing interests are also keeping a close eye on the situation and, if security can be guaranteed by the National Transitional Council in the coming weeks and months, we may start to see new companies looking to take advantage of opportunities," he said.
Rodrigo Rendon, head of business development at KCA Deutag, which had 15 rigs in Libya before civil unrest broke out, said it was too early to say when they would return.
"Libya is a key market for us and we have a long-lasting relationship with our clients there," he said.
"We are constantly evaluating the situation and having ongoing discussions with our clients and security advisors as to how and when we might resume safe operations in the country."
BP, which halted plans to drill in the country four years after signing a £550million deal in 2007 to explore for oil, said it was still committed to its plans there.
This would be when it was appropriate however. It was understood the National Transitional Council's focus was on resuming production in the country rather than exploration.
Nouri Nerouin, boss of Libya's national oil company, has said the end of Nato bombing and Gaddafi's death would mean the country could start exporting oil again and could improve road links and security.
Earlier this month British explorer Heritage Oil revealed it had paid nearly £13million for a 51% stake in a Benghazi-based oilfield operator, Sahara Oil Services.
National oil company Agoco recently restarted two eastern oilfields.
Oil reserves in Libya are estimated to be the largest in Africa and the ninth largest in the world, totalling 41.5billion barrels.
However, analysts at Barclays Capital said: "There is no parliament, no constitution, and virtually no civil society organisations, and the Libyan military is riddled with tribal and regional divisions.
"Hence, the potential for a security and political vacuum in Libya continues to be elevated, in our view."
Recommended for you

Sanalla makes pitch for investment as US backs oil cash flow freeze