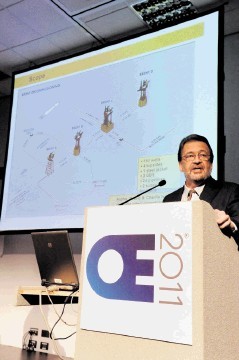 IN JUST three months, production from Shell/Exxon's Brent Delta platform will be shut down for good and preparations for decommissioning the huge structure will start.
But that is not the end of Brent. The North Sea giant's three other platforms will remain operational for some time to come.
Externally, there will be few, if any, discernible changes to Delta for about two years as Wood Group PSN and its sub-contractors carry out a huge programme of cleaning, making safe and isolating modules prior to heavy-lift deconstruction around 2015.
Brent decommissioning manager, Austin Hand, told Energy that the Brent decom programme is scheduled to last 12 years, but that the focus would be on safe removal of infrastructure, rather than cost.
Mr Hand declined to the likely cost for deconstructing Brent, saying only that it will run to billions of dollars.
As with new field developments, Shell/Exxon require approval from the Department of Energy and Climate Change before ploughing ahead with dismantling an asset that has delivered over 4billion barrels oil equivalent to market and huge revenues to the UK Treasury.
Multiple studies have generated a mountain of reports as Shell/Exxon seek to cover every aspect of the decommissioning, including the impacts of leaving three concrete gravity base structures (GBS) in place. These are eligible under the OSPAR (Oslo and Paris Convention).
"We've completed that work and, no surprise, these are beasts that were installed in 1971 when the country was really in need of oil and money for the Treasury," said Mr Hand.
"It was a massive achievement just to build, get the structures out there and get them producing by 1975-76. They weren't designed to be removed."
There is a secondary but very large issue associated with the GBS units; should their towering legs be left or chopped off 55m below the sea's surface?
Mr Hand: "Removing the legs of a GBS has not been done before. It's a massive challenge. Why would you consider doing it because other concrete platforms have been derogated with legs out of the water.
"Our consideration is that the legs may be there for only a couple of hundred years; the cells in the base could last 500 to 1,000 years. Currently our position would be legs up but we want to satisfy ourselves."
Turning to the topsides, they will be removed and taken ashore for recycling. However, part of the consultation process of necessity involved looking at alternative proposals such as offshore prisons, casinos, fishing villages and windfarms. But 180km north-east of Shetland?
"We weren't dismissive. It was important to give everyone proper consideration.
"Instead, we'll remove all topsides. The collective weight of the four is 100,000 tonnes. We're targeting 95% for recycling . . . mostly steel.
"Each platform topsides has about two years of work just to engineer down, clean systems and segregate modules, because the proposed removal process is by lifting the modules back off. Heavy-lift vessels will take them to shore for disposal."
As a part of the evaluation process, the Brent decom team has also been looking at alternatives to using heavy-lift crane barges. In particular, Shell/Exxon has examined a Dutch concept for removing platform topsides as a single unit . . . the Pieter Scheldt catamaran ship that is now under construction in South Korea for Allseas.
"We're also looking at onshore disposal yards at the moment and preparing to seek heavy and single lift bids towards the end of Q1 net year."
Decommissioning Brent is not just about the platforms; there is also subsea infrastructure, namely a network of some 24 pipelines and more than 150 wells to deal with.
Take wells, for example.
"There are 160 wells to plug and abandon and some are 35 years old," said Mr Hand.
"They're very challenging and difficult. So you can imagine. If I only deployed one well crew, it would take about 13 years to plug and abandon all Brent wells. We've actually got three crews working, but the wells are still proving very challenging."
And the pipelines scheduled for removal, bearing in mind that some will remain in use as export infrastructure for the nearby network of producing fields?
"In accordance with the rules, some will be removed totally, some will be cleaned and left in place … either trenched or rock-dumped. This is generally the industry's approach."
Mr Hand said one of the most important aspects of trying to get the Brent task right was effective communications. Shell especially learned this from the Brent Spar debacle.
The Brent decommissioning team has so far identified some 250 stakeholders of which 150 are organisations of various hues.
Their views have to be considered, no matter how wacky. Environment is high on the agendas of many.
"We're currently doing the environmental impact assessment," said Mr Hand. "This is for the whole field. We will submit one decommissioning programme for all of the platforms. That was part of my change in strategy, which is to accelerate the other three platforms to catch up with Delta. This is so DECC and other stakeholders can better understand what we're trying to do.
"I took some criticism at Offshore Europe when I said, if you think you understand decommissioning, think again. A lot has been learned from other projects such as Frigg and North-west Hutton. All I'm saying is a project like Brent is complex and there will be surprises to come.
"We intend to submit in Q3 next year. I've been very pleased with the engagement with DECC . . . pragmatic, open, good discussion. We'll be approaching them with our proposals for the Brent field. The EIA studies are more or less complete. We've shared our selected proposed solutions. The only one that I think is still very challenging for them is the contents of the GBS concrete storage cells"
These cells are about 60m high by 12m diameter. According to Mr Hand, they appear to hold 1-7m of sediments plus some oily water and, in the case of Brent Delta, a small amount of oil trapped at the top of each cell.
"So we have to go down, drill into the top of the cells with a 7-inch hole.
"We've developed the technology with local company Geoprober.
"Once we're in there we can do a sonar mapping of the depth and profile of the sediment; also we can remove both attic oil and water as required. But can the sediment be removed and, if not, is leaving them in place acceptable?
"We're doing some long-term modelling with BMT Cordah . . . looking at what may happen over a period of 500-1,000 years. Might there be leeching? Should we cap? And so on.
"Also, should we remove and inject the sediments down a well; can it even be done or should it be left in place? Like drill cuttings, what if any demonstrable impact might there be on the environment long-term?"
Mr Hand said Shell/Exxon had enjoyed good collaboration with others . . . both operators who have been through the decommissioning process with North Sea platforms and trade bodies Oil & Gas UK and the international body OGP (International Association of Oil and Gas Producers).
While Delta is soon to shut down, cessation of production per se at Brent is not yet finalised.
"We've agreed the earliest dates but, like any prudent operator, you still want to extend production out as far as you can.
"However, once we've consolidated the bids from the lift programme, we can harden the schedule.
"It may also be to our advantage to allow one to two years of flexibility to the heavy lifters."
The plan is to run the Brent decom programme with around 100-120 people in-field. But this will be a finely-balanced exercise.
"Beds are a constraint and we will have to strike a balance between length of programme and the numbers of people required. The team working with Wood Group PSN are pretty confident that we can do this a little bit quicker than we'd anticipated, and very efficiently and effectively too."
Recommended for you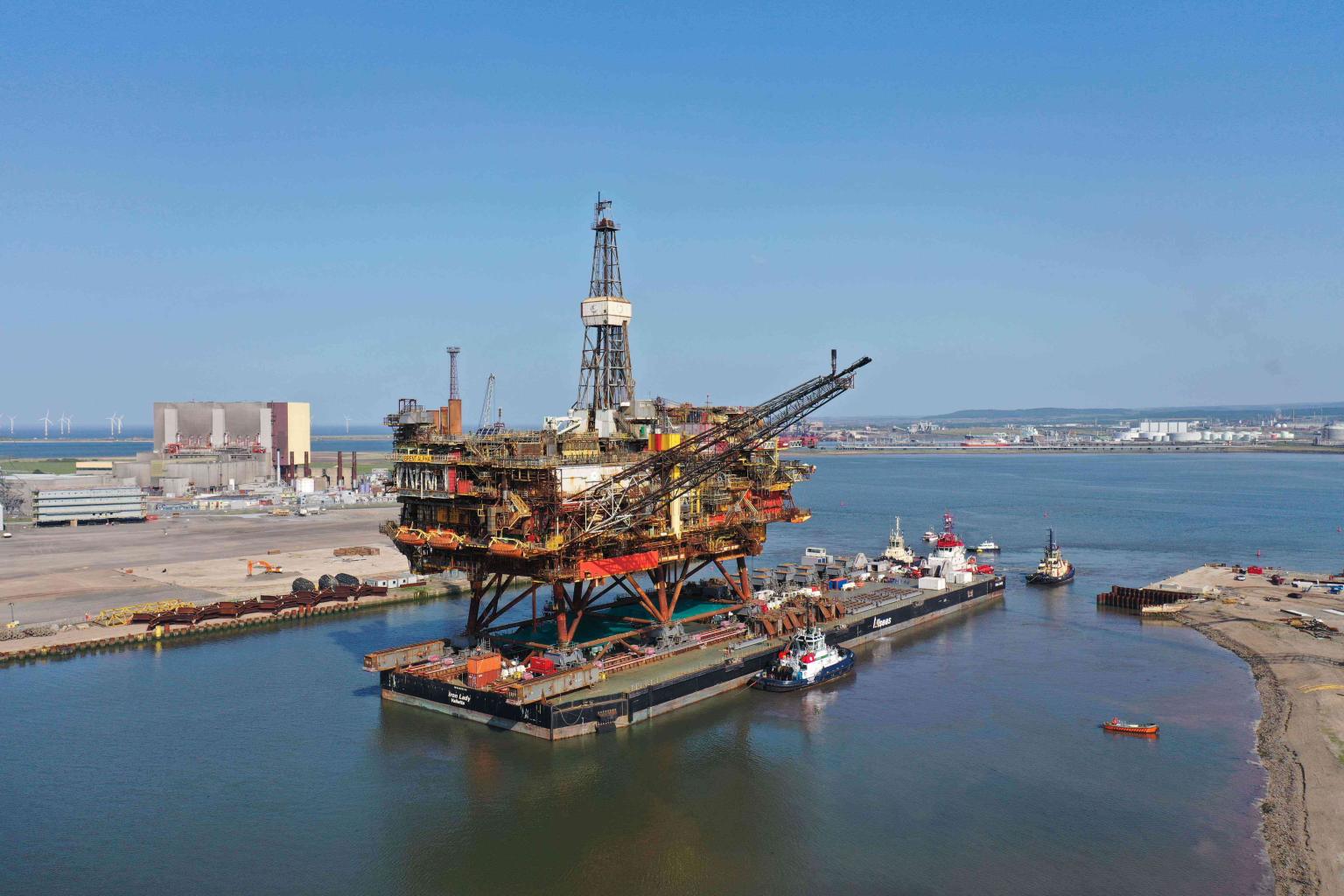 Decom timing frustrations forcing North Sea firms to look overseas