Piper Alpha remembered 31 years after oil rig disaster
By
Gregor Aiken
08/07/2019, 7:35 am
Updated: 08/07/2019, 7:53 am
One of Scotland's most horrendous disasters in oil and gas history was remembered in Aberdeen today.
People gathered to the memorial gardens at Hazlehead Park for an act of remembrance marking 31 years since the explosion that killed 167 people on the North Sea oil rig.
The service was lead by Gordon Craig from Oil and Gas Chaplain who expressed words of commemoration that included a reading of names of whose who died that day.
A minute silence was followed by a laying of wreaths at the garden's iconic three manned statue.
Piper Alpha survivor and Chairman of the Pound for Piper Trust, Steve Rae, said: "We're here to remember the 167 souls we lost that fatal night and ensure we keep their memory alive today.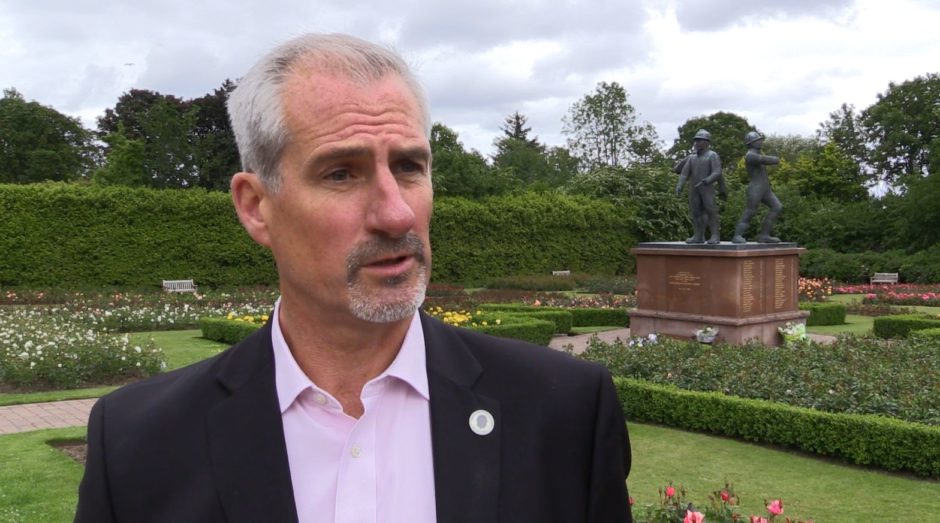 "In doing so we ensure that others understand it (Piper Alpha) was a defining moment in oil and gas history.
"The dangers and hazards are still ever present as they were in 1988 and it's important to remember that today – we have younger generations coming into the industry that need to understand the potential loss that could be if they don't go about their business properly."
Oil Rig Disaster
On July 6, 1988, Piper Alpha, an oil production platform situated 120 miles off the north-east coast of Aberdeen erupted into flames following an explosion on the platform.
As a result, 167 people died including two crewmen of a rescue vessel. Only 61 workers managed to escape and survive.
The total insured loss was about £1.7 billion making it one of the costliest man-made catastrophes ever