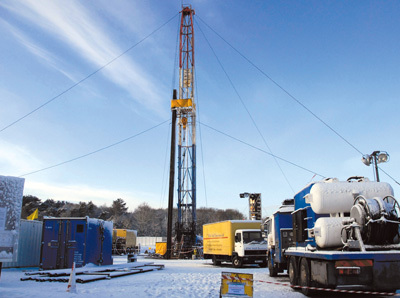 Bath-headquartered firm Union Jack Oil has announced a "major" oil discovery at its onshore West Newton appraisal well.
It is understood to be a significant find of both oil and gas for operator Rathlin Energy.
The West Newton A-2 well is located in Humberside, England.
Union Jack, who hold a 16.66% interest in the site, said that an initial evaluation identified a "gross oil column of approximately 45 metres within the Kirkham Abbey interval".
David Bramhill, executive chairman of Union Jack Oil, said: "The confirmation of a major oil discovery at the West Newton project is highly encouraging compared to its original perception as a substantial gas discovery.
"We now await a revised CPR that Union Jack expects will provide details on the oil in place, gas in place and recoverable volumes.
"Given the positive value implications of a major onshore oil development, rather than predominantly gas as originally believed, we expect this will also lead to a meaningful uplift in the NPV10 calculations in the Revised CPR."
The West Newton A-2 well was spudded on April 26 and in June reached a total depth of 2,061 metres.
Stefania Barbaglio, a public relations spokesman for Union Jack, claimed the West Newton well is" the largest onshore hydrocarbon discovery in the UK for 30 years".
He went on to describe it as "a real game-changer".
Recommended for you

Exploration: As Norway unveils major oil and gas discovery, UK 'lags far behind'