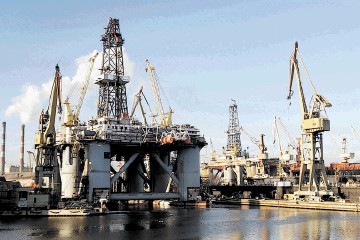 ON THE UKCS, 20 mobile rigs are involved in drilling operations on 23 wells . . . seven exploration, five appraisal and 11 development/production wells – the latter including batch drilling programmes.
The 12 rigs employed in drilling E&A wells comprise seven semi-submersibles, four jack-ups and the Stena Carron drillship. The eight units on development/production drilling operations comprise a trio of semi-subs and five jack-ups.
With the easing of weather conditions, November saw the highest level of well starts all year, with six spuds and one sidetrack, bringing the year's total so far up to 45 E&A starts; 30 spuds and 15 sidetracks.
Of the 11 development and production drilling programmes, just three are utilising platform-based facilities emphasising the shift to mobile units. To date 63 wells have spudded and 46 sidetracks have commenced in 2011 and drilling levels for such wells are only marginally behind those of the same period in 2010.
West of Shetland area, one mobile unit is operating. The Stena Carron drillship spudded Chevron's well 213/28-1 on the Aberlour prospect early month in 3,600ft of water following suspension of Cambo appraisal well 204/10a-4Z. Possibly untested due to adverse weather conditions, this well may be re-entered next year.
Also out west, Awilco's WilPhoenix suspended Hurricane's Whirlwind re-entry following a DST (drill-stem test) programme ahead of a move to the Central North Sea. Severe weather also hampered Hurricane's operation and the results of the test programme, which flowed only low rates to surface, remain ambiguous as to whether the accumulation is volatile oil or gas condensate.
Northern North Sea: two semi-subs are active; the Sedco 714 on Total's 3/14a-19Z Ardbeg sidetrack, which kicked off on November 12 and Awilco's WilHunter, which was finally able to spud MPX's well 3/3b-13 to appraise the Middle Jurassic Orlando discovery.
Central North Sea: the number of active wells has jumped from five to eight with the spud of EnCore's 14/30a-5 Tudor Rose Tertiary heavy oil appraisal (Sedco 704 semi-sub); EnQuest's 21/13a-5 Crathes/Moon appraisal (Transocean's John Shaw semi-sub) already having encountered light oil in its shallow Palaeocene target; Antrim's 21/29d-11 on the Eocene Erne prospect with the semi-sub WilPhoenix; and Nexen's 39/1b-3 targeting the Jurassic Edgware prospect. Nexen abandoned its second sidetrack on Polecat South appraisal well 20/4a-10, ahead of the semi-sub Transocean Prospect's move to Block 39/1b.
Also in the CNS operations are continuing with the semi-sub Ocean Nomad on BG's 22/15-4 (Esperanza) target where a Palaeocene light oil discovery has been made. And three heavy-duty jack-ups continue operations on HP/HT (high pressure/high temperature) targets. These comprise: BG's sidetracked Jackdaw appraisal, well 30/2a-8Z (Gorilla VI) nearly 500 days since the initial spud of well 30/2a-8 in August 2010; Maersk's Culzean appraisal well 22/25a-11 (Ensco 101) and GDF Suez's Faraday prospect well 30/1a-11 (Galaxy II).
Southern North Sea: just one well is currently drilling, namely Wintershall's Wingate field appraisal well 44/24b-A2, utilising the jack-up Ensco 80. The jack-up Energy Enhancer was still on station towards month end at the location of well 53/2a-14Z, which was abandoned in early November, and where Perenco reportedly had success with its Leman South appraisal.
To the west of Britain, in the East Irish Sea Basin, no wells are drilling although the Hannon Westwood wells forecast might suggest the region is ripe for a multi-well/multi-operator drilling programme in 2012, similar to that conducted by the jack-up Ensco 92 between May 2009 and March 2010.
As weather conditions deteriorate into December, companies will be at least a little relieved that a sufficient window occurred during November to allow a scramble of rig moves that resulted in six new spuds and a sidetrack, a monthly level of starts not seen since August 2010.
In one fell swoop, the UKCS drilling activity level has been dragged out of the doldrums and comparisons with the early 1970s are behind us. Current well spud numbers are broadly on a par with those of 1999 – still bad, but could have been worse. Success rates might even rise given the positive noises coming from a number of drilling operations.
Simon Robertshaw's column is courtesy of oil & gas analysts Hannon Westwood
Recommended for you

Well Slot: Who's drilling in the UK North Sea and Norway?