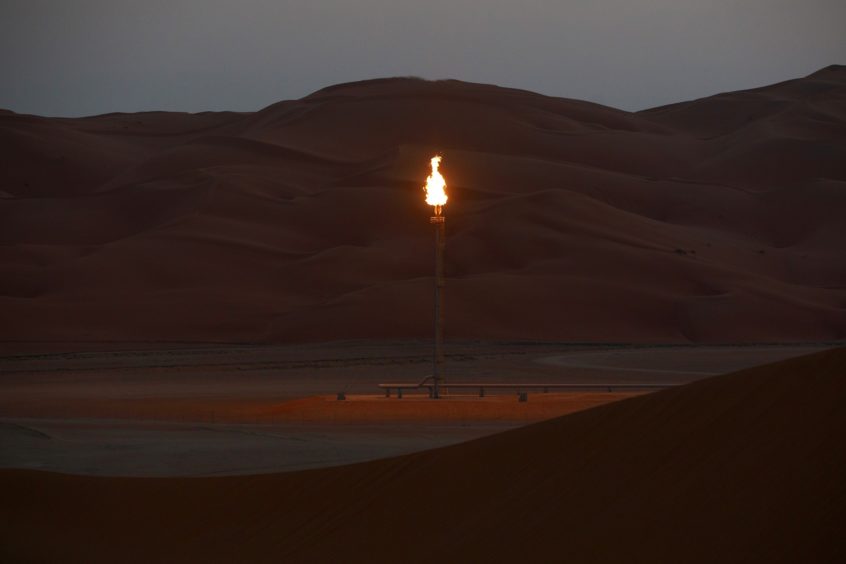 Oil resumed gains as tension between the U.S. and Iran ratcheted up following the attacks on Saudi Arabia, while doubts remained over how fast the kingdom would be able restore lost output.
Brent crude surged as much as 1.9% after jumping 6.7% last week, the biggest advance since January. Iran's Foreign Minister Mohammad Javad Zarif refused to rule out war after the U.S. sent more troops and weapons to Saudi Arabia, he said in an interview with CBS. Washington on Friday slapped terror-related sanctions on the Islamic Republic's central bank in retaliation for the strike on the kingdom's energy infrastructure.
Saudi Arabia said Iran "unquestionably sponsored" the attacks, which knocked out about 5% of global supply and led to the biggest price spike on record. Aramco's Chief Executive Officer Amin Nasser reiterated a commitment to restore output to pre-attack levels by the end of September, adding that the company hasn't missed any customer shipments.
Rystad Energy and FGE are skeptical that Saudi Arabia will be able to meet its post-attack targets for restoring supply, while the Wall Street Journal reported repairs may take many months.
"Until Saudi Arabia fully restores production, oil prices will continue to be buoyed on concerns over increased geopolitical risks," said Will Yun, a commodities analyst at HI Investment Corp. in Seoul. "Still, it's unlikely that we will see a war or military confrontation."
Brent crude for November rose 67 cents, or 1%, to $64.95 a barrel on the ICE Futures Europe Exchange as of 12:33 p.m. in Singapore after gaining as much as $1.22 earlier. The contract closed 0.2% lower on Friday. The global benchmark crude traded at a $6.26 premium to West Texas Intermediate.
WTI for November delivery gained 60 cents, or 1%, at $58.69 a barrel on the New York Mercantile Exchange. The contract climbed 5.9% last week to $58.09.
The attacks set off an unprecedented flurry of activity in the oil futures markets last week, with both Brent and WTI contracts setting records in weekly aggregate volume. More than 17.2 million contracts traded hands.
Iran's response has been a mix of defiance and an attempt to ease the tension. President Hassan Rouhani said on Sunday the Persian Gulf nation would lay out a peace initiative for the region at the United Nations General Assembly that would involve a coalition of regional and foreign countries, while Zarif said "I'm not confident that we can avoid a war."
U.S. penalties on Iran's central bank are the highest ever imposed, President Donald Trump told reporters last week. More than 80% of nation's economy is under American sanctions already, including oil, banks and steel, and the U.S. is looking to target sectors that continue to function, such as trade in manufactured goods and transportation equipment.
Recommended for you

Guide: The polluting countries that could derail COP26 climate talks