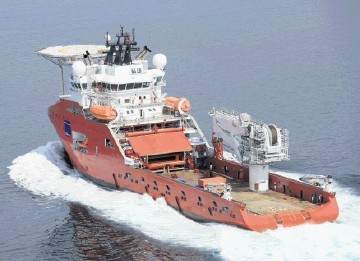 DOF Subsea has christened its latest Installer-class vessel, completing its build programme of four new ships for the construction and mooring installation market and kick-starting further growth.
The Skandi Skansen, due to complete its first 20-day operation – decommissioning work for Hess on the North Sea Ivanhoe/Rob Roy field – is a new generation of high powered multipurpose construction and anchor handling vessel built for deepwater, mooring and field installation operations.
The 107.2m vessel, with accommodation for 90 people, has a working moon pool, a 250-tonne offshore crane, deck area of 1,070sq m, two work class Schilling UHD ROVs (remotely operated vehicles), a D-rated helideck and a low resistance hull form.
She joins Skandi Vega, Skandi Skolten and Skandi Hercules, all commissioned at the same time by DOF, at a combined cost of £243million.
All four were ordered as a response to the growing number of floating production units being used for exploiting oil resources, especially deepwater where smaller anchor handlers would not be suitable.
DOF is also looking at decommissioning and the tying in of pipelines, freeing up more expensive pipelay vessels.
Garry Millard, managing director, said: "DOF has been quite clever. Rather than some vessel owners building dive support vessels and anchor handlers, they have focused on hi-tech or ice-class vessels.
"The beauty of these vessels is that they come with large cranes and big back decks, which means they can also do construction work."
With the four vessels, the backing of DOF subsidiary mooring systems design firm Semar, and engineering subsidiary CSL in Aberdeen, the firm was in good shape, he said.
"We have the onshore side in the right regions in the world and we have Semar designing mooring installation systems, it's just a matter of making it work," added Mr Millard.
DOF is on its second recruitment drive this year. It wants construction managers, instead of just survey or offshore managers, to grows its capabilities.
Its Aberdeen ROV staff of 40 last year is to double by the end of this year. Survey staff will increase from 35 by about 50% and offshore managers will increase from three to six.
CSL, set to support DOF group, has also been expanding with a new engineering team led by a former Acergy man.
DOF Subsea is 51% owned by the Storebø-based parent company and 49% by private equity firm First Reserve. It has 68 vessels plus 12 at various stages of completion, including a joint venture with Technip to build pipelay vessels in Brazil. DOF is also having four anchor handlers built in Vietnam.