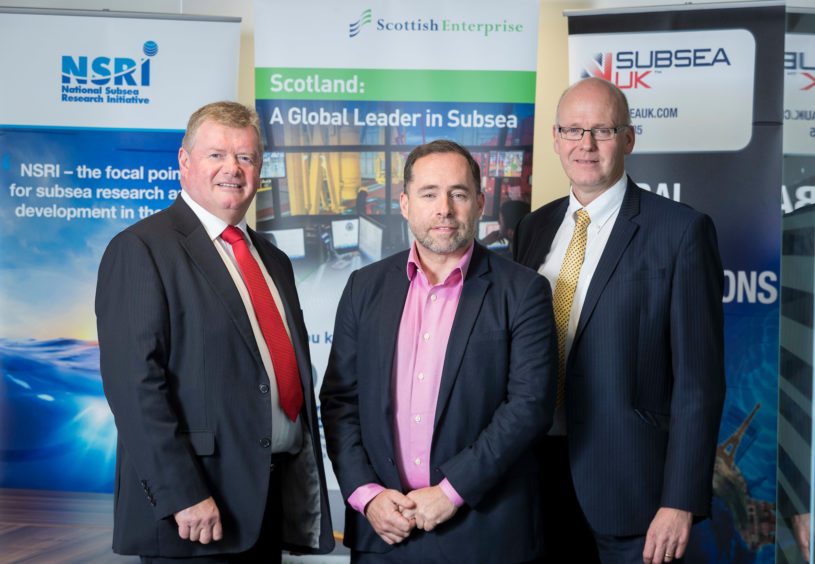 A partnership between Scotland and Japan will inject £21m into six projects designed to tackle the next wave of challenges in the subsea industry.
A total of 12 Scottish firms will benefit from the scheme, including seven from Aberdeen, which will invest in projects in offshore renewables, oil and gas and carbon capture and storage.
Scottish Enterprise is footing £6.2m with another £4.1m coming from Japan's Nippon foundation.
The remainder is being brought by the 20 companies involved in the work between the two countries.
Industry body Subsea UK is also involved, with the funding aimed at helping Scottish firms capitalise on the opportunity presented by the "Blue Economy" – expected to be worth £140bn by 2035 globally.
The projects include an £8.3m scheme to develop an offshore and subsea Internet of Things infrastructure, and a £3.3m venture to build a digital system to monitor floating structures.
This latest funding has been announced as Scottish external affairs secretary Fiona Hyslop visits Japan his week.
She said: "The Scottish Government is committed to retaining our position as a global leader in subsea engineering – investing in our innovation infrastructure to grow Scotland's market share and supporting opportunities in other sectors."
The collaboration between Scotland and Japan was first announced in 2017, aimed at helping Scottish firms capture a bigger part of the global subsea market currently worth around £50bn.
The first round of funding, announced last year, saw £7.15 million go to eight Scottish companies to collaborate on five projects.
On this latest round, David Rennie, head of oil and gas at Scottish Enterprise, said: "These projects will create significant value for the Scottish economy, and we are delighted to support them."
"It is particularly welcome to see the focus on the blue economy agenda.  While our experience and focus in subsea has been based around oil and gas, these project awards clearly demonstrate that our subsea sector, one of our key global strengths, has the potential to help deliver technology solutions in a range of sectors beyond oil and gas.
The Scottish firms who are part of the project are as follows:
-SMS Ltd – Aberdeen
-Sustainable Marine Energy – Edinburgh
-EC-OG – Aberdeen
-Precision Impulse – Aberdeen
-Texo – Aberdeen
-Tritech – Aberdeen
-Sensor Works – Livingston
-Yokogawa UK – Aberdeen
-Bridon Bekaert – Coatbridge
-Tension Technology International – Inverness
-Ecosse IP – Aberdeen
-WFS – Livingston
Mitsuyuki Unno, executive director of the Nippon Foundation, said: "I hope these projects will promote multisectoral collaboration, global partnerships and develop the new ocean development market.''
Recommended for you

Seaway7 eyes northeast jobs boost following £370m UKEF-backed loan