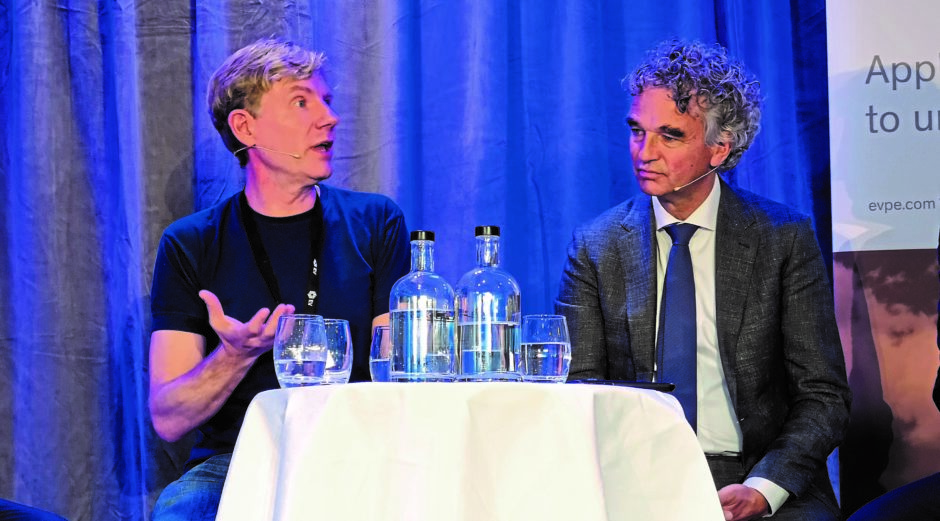 As people around the world gathered for the largest climate protest in history last month, the audience at an event in Stavanger was told there can't be a "rational conversation on global warming before we've stopped screaming".
Bjorn Lomborg, president of the Copenhagen Consensus Centre and author of The Skeptical Environmentalist, was making the case that climate change "is not the end of the world".
It's a controversial opinion for today's audience, but the economist, whose writings on environmental topics have been the subject of huge debate and polarisation within the scientific community, is no stranger to that.
At the event, hosted by EV Private Equity, Mr Lomborg said climate change is "real" but argued it is often "greatly exaggerated".
In the opposing camp was Mark van Baal, a Dutch activist best known for founding Follow This, an investor movement which compelled supermajor Shell to set out a series of climate change ambitions and is pushing others to do the same.
Where Mr Lomborg asked for "a sense of proportion" to the climate change argument, Mr van Baal sought urgency and while Lomborg said doubling renewables is "not a good investment", van Baal said the oil industry changing its course is "the only way" to properly tackle the issue.
Mr Lomborg opened proceedings with a recent YouGov poll which found many of the 30,000 people surveyed across the world believe humanity will become extinct due to climate change.
That, he said, is "just silly" and only when it is recognised this is not the end of days "we can start having a sensible conversation like we do with other policy issues".
Mr Lomborg argued that, as the world becomes more wealthy, it will become more resilient to the effects of climate change, while even doing nothing would only hit between 0.2-2% of global GDP by the 2070s.
"It's the equivalent to about one recession over the next 50 years," he said. "That's a problem, but it's certainly not the end of the world."
He said the world is not going to meet the goals of the Paris climate agreement, which is aimed at limiting global temperature rises this century to less than two degrees Celsius above pre-industrial levels.
He argued that while extreme weather could become more intense, there is little evidence of such cases today being due to climate change.
He said other issues like poverty are more pressing for billions of people around the world and addressing those can largely mitigate the effects of climate change.
"Very, very bluntly, it is poverty," he said. "About a third of all the people who die, about 18 million people every year die because of poverty.
"The fundamental point is to recognise there are much bigger issues than global warming.
"If you're poor you really have more important issues like your kids not dying today.
"If you want to help people, you have to ask yourself do we want to help future generations by cutting carbon emissions and hence having them experience less climate change or do we want them to be more resilient against climate change by making sure they get out of poverty and get richer?"
Some of the solutions that Mr Lombord's think tank proposes include improving free trade, reducing child malnutrition, halving coral reef loss, improving access to contraception and increasing mobile broadband in developing nations.
All of these, he argues, are better investments than doubling renewables, which would only do 80 cents of good for every dollar spent.
The UN's Intergovernmental Panel on Climate Change states that, taken as a whole, the range of published evidence shows the damage costs of climate change "are likely to be significant and to increase over time".
That is something clearly on the mind of Mr van Baal, who argued that the oil and gas industry had a strong role to play, specifically in changing its direction of travel.
He set up Follow This, whose efforts have helped persuade Shell to set up industry-leading climate change targets linked to executive pay.
The group is also targeting Shell's competitors, including BP, Equinor and Chevron.
After hearing Mr Lomborg's presentation, Mr van Baal joked he needed to "do some anger management", arguing that tackling climate change was far more pressing than Lomborg suggests.
He said: "I think the only way to do so is to make sure the oil and gas industry changes its course, stops investing in exploring for even more oil and gas and starts exploring new business models. It's simple as that.
"We need exponential growth and therefore we need the oil industry to invest differently.
"I think everyone has a choice to either go with Bjorn's story, that we don't have to worry too much, or with my story that you really have to worry.
"There are three questions we need to answer. First: Do you believe we have a real problem and we need to act? Second: Do you think it is a huge business opportunity? And third: Do you want to break the power of the fossil fuel industry?
"These are three very simple questions and if you believe we don't have a problem then please go about business as usual and then other people will do it."
The two men clashed over the pace of the energy transition.
Mr van Baal argued for no new oil and gas exploration and even argued against natural gas for power generation.
However, Mr Lomborg said those with the idea of 100% renewables by 2030 were in the "fantasy region" and that developing countries could be pulled out of poverty with the use of fossil fuels.
Mr van Baal said: "The problem with switching to natural gas is you then lock yourself in for another 30, 40, 50 years. That's a big problem.
"Even if it would help us get to 50%, we need to go to zero.
"The risk is if we help Africa to first get to gas-powered, we'll never reach the goal of the Paris climate agreement."
However, Mr Lomborg rebutted: "I think this is a clear example of the best being the enemy of the good – that we somehow have this idea that if we don't do gas we could get the whole way. No, we could get zero percent of the way, that's the way we're headed right now. In the real world we have to say 'going to gas is not a zero emissions energy source, but it is much better'.
"It is working in the US and if we can get China to switch their coal-fired power to gas then that would be an amazing achievement."
The two men did find some common ground though – in the need for investment for the future.
Mr Lomborg said one of the best things to do is invest in research and development for the next generation of renewable technologies.
He said: "If you're going to have people change, you need to find a way to make this much more effective.
"If you can innovate the next generations of green energy to be cheaper than fossil fuels everyone will switch, you will have solved the problem."
Recommended for you

Bridges and Bottlenecks 01: Net zero targets and the impact of climate change