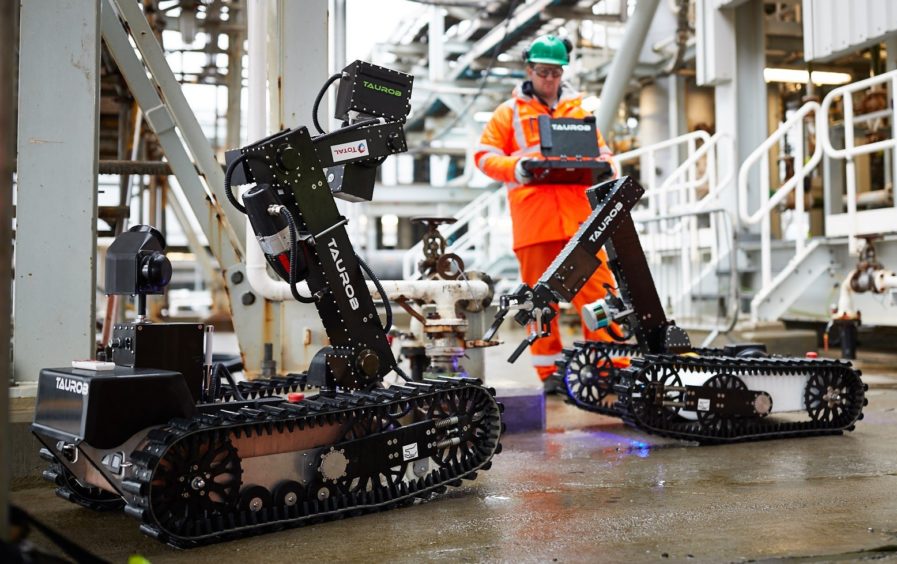 The next phase has been announced of a world-first project to see autonomous robots working on offshore oil and gas installations.
The landmark development is being supported by the Oil and Gas Technology Centre (OGTC) in Aberdeen and Total, with trials of the first generation of the robot at the operator's Shetland gas plant and Alwyn platform in the North Sea last year.
Energy giant Equinor has now joined Total in pledging further field tests of the second generation which will be the world's first Offshore Work Class Robot (OWCR).
While the original, developed by Austrian tech firm Taurob, is designed for visual inspections, the new model will have a stronger chassis and a heavy-duty arm capable of tasks like lifting objects and turning valves in dangerous environments.
The aim is to reduce workers' exposure to high-risk situations offshore and allow them to focus on more complex tasks that robots cannot perform.
Along with Equinor's commitment, Total subsidiary Saft will produce a first-of-its kind lithium-ion battery to allow the machine to operate in severe environmental conditions, with a temperature range of -30°C to +60°C.
It will be able to run for a year without maintenance.
Jean-Michel Munoz, R&D next generation facilities project manager for the Deep Offshore Program at Total, said:  "Exploration and production operations are conducted in increasingly harsh and challenging conditions, including extreme cold, arid climates and isolated locations.
"This project is key to Total's forward-thinking approach, making operations safer by reducing the exposure of personnel to potentially high-risk situations and the immense challenges our teams face – paving the way for tomorrow's simpler, streamlined and less expensive facilities that will require less annual maintenance."
The original was unveiled at Offshore Europe in Aberdeen last month.
Meanwhile the second generation announcement comes as the Taurob team prepares to exhibit at the 'SPRINT World Conference for Inspection and Maintenance Robotics', in Rotterdam this week.
Joining the project team, Stine Vatneberg, leader of automation technology for R&D within Equinor added: "Equinor recently awarded the first contract on use of wireless, autonomous underwater drones in the oil and gas industry. We look forward to test and deploy the world's first autonomous grounded robot in collaboration with key partners.
"Maximising the robot's operational time in an ATEX (explosive atmosphere) environment requires a high capacity battery with the ability to fast charge.
"The project scope will break new ground by introducing a fully ATEX-certified lithium-ion battery, increasing operational usefulness, extend performance and will unlock many new applications."