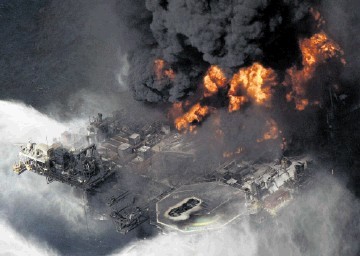 OIL supermajor BP has filed its first plans to explore in the Gulf of Mexico since the Deepwater Horizon disaster last year.
BP introduced new voluntary standards and practices in the region after the explosion but had not, before now, made any move to restart oil exploration in the area.
The company confirmed yesterday it planned to drill an appraisal well on the Kaskida field.
Its proposals are being evaluated by the Bureau of Ocean Energy Management Regulation and Enforcement (Bureau), which regulates offshore drilling in the US.
The US government imposed a moratorium on Gulf drilling after the Deepwater Horizon drilling rig exploded and sank on April 20, 2010, killing 11 workers and spilling more than 200million gallons of oil into the sea.
The catastrophe was caused when a blowout preventer (BOP), designed to stop oil leaking to the surface, failed.
Last week, a top-level report into the explosion laid much of the blame on BP but rig owner Transocean and contractor Halliburton were also criticised.
The joint US Coastguard-Bureau report said the incident was caused by poor management, mistakes and a faulty cement job. Accident investigators found that increased vigilance by all three companies could have reduced the likelihood of the blowout occurring.
Other oil firms have had exploration and drilling plans approved since the six-month moratorium was lifted.
A spokesman for BP said its timetable for the Kaskida drilling was not yet established and depended on full approval from the regulator. He added the work would comply with Bureau standards, including all regulations related to BOP testing and oilspill-response plans.
"BP will also apply its voluntary standards, exceeding current government standards, to drilling of the well," he said.
Kaskida was discovered in 2006 and an appraisal well in 2009 confirmed there was oil in the prospect, with BP estimating 3billion barrels.