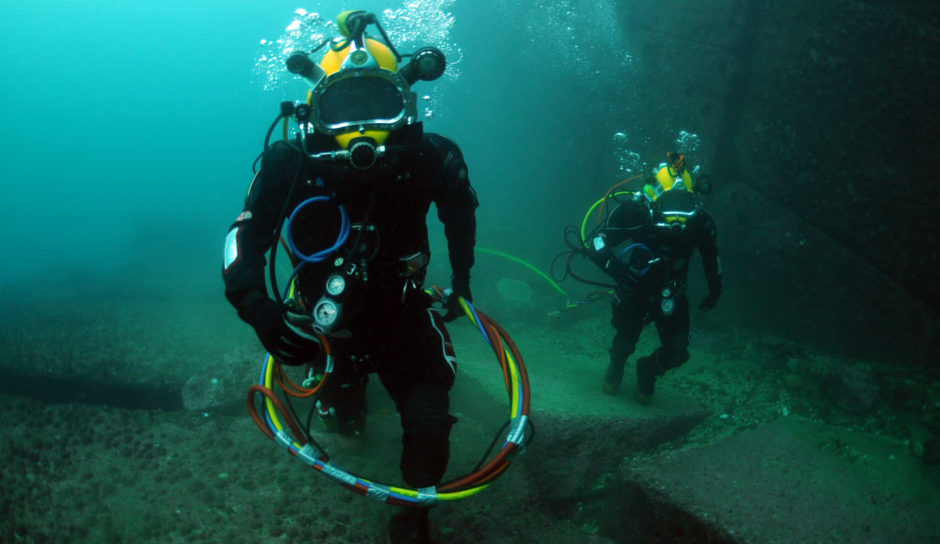 The UK diving industry may need to reassess its reporting culture in light of a serious incident off the coast of Australia, according to a union boss.
Seven workers sustained "chronic brain injuries" while working 273m deep at the Ichthys project off Western Australia in 2017, which is the subject of an ongoing legal dispute.
An independent medical report, published last month by Dr Ian Millar of Melbourne's Alfred Hospital, said one group of divers was pressurised "excessively and inexplicably fast", however there was not "one single obvious cause" for the injuries.
The report highlights that the extent of the damage was not immediately known as many of the divers were "hiding or at least not declaring their problems" in hopes they would resolve and "out of concern that their future employment might be compromised".
Dr Millar, with 35 years of industry experience, goes on to state that divers may not report health issues for "fear of losing diving fitness certification and offers of diving employment".
Following that, Jake Molloy of the RMT union in Aberdeen said, although the UK has stronger safety standards, there remains an "inherent fear" among the diving community that challenging or stopping a job could lead to loss of employment.
Mr Molloy highlighted that he "doubts" incident like Ichthys would happen in the UK North Sea with standards being relatively good.
He said: "It may be, in light of this event, and indeed in light of some events which have occurred here in the UK over the last couple of years, that we need to look at that, we need to change that culture.
"We need to build-in a mechanism that enables divers to more readily challenge and more readily say 'no, that's wrong, we're not doing that'. I don't think we've got that at this moment in time.
"There is an inherent fear amongst the diving community that refusal, which stop the job process could see them taken off the contract and not given more work.
"It might just be a perception, it might simply be that we need to change the divers' perception because management wouldn't let that happen. But until it is tested we don't actually know.
"We'll certainly be sharing it with the employers when we sit down with them, we'll be taking it through and talking about this report.
"Moreover we need to talk to the divers about what would make them feel more able and more willing to avoid this kind of scenario because you don't want divers or indeed any worker to be carrying around this kind of trouble around with them."
With a lack of employment and "persistent disability", Dr Millar reports several of the Ichthys divers are understood to be in severe financial difficulty, with more than one expressing "suicidal intent".
Dr Millar was brought in after the first patient was referred to him.
He then assessed 13 of the 15 divers who participated, with seven suffering "major, ongoing disability".
Several had not initially reported the symptoms, which included "impaired cognitive functioning, severe headaches, balance disturbance and mood instability".
At certain depths it is expected that divers will suffer some form of high pressure neurological syndrome but the symptoms normally cease in time.
The divers reported issues including "absence type seizures" where awareness and movement ceases for several seconds, and uncontrollable "jittering" of jaw muscles in one individual.
The report also said some have symptoms of post-traumatic stress disorder (PTSD), similar to "combat veterans who have experienced blast concussion injury".
Mr Molloy added: "There's a focus on mental health issues today and this goes to the heart of that issue that they're carrying this burden and ill-health, this condition, but feel unable to talk about it until several months after the event. I think that's astonishing."
The report states is it not commissioned by any party and is intended to be shared as an expert opinion and general briefing document.
Several divers are in a legal battle with DOF Subsea Australia over the incident.
The firm has previously said it "regards the ongoing safety, health and wellbeing of all its employees and contractors as being of paramount importance within the company's operations and among DOF Subsea's core values and guiding principles."