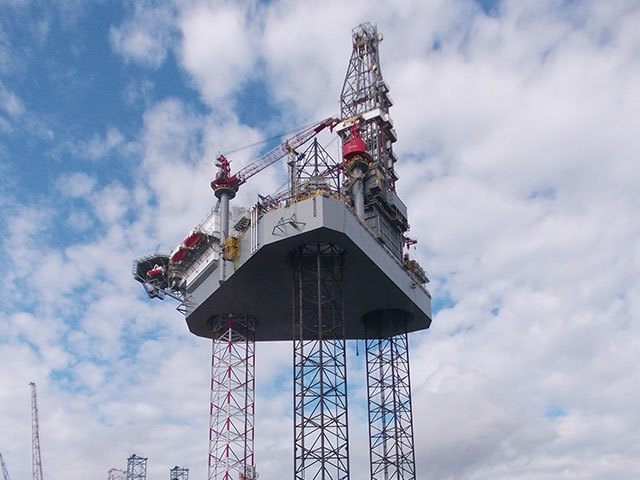 Valaris has sunk into the red as it seeks to sell off an ageing semi-submersible drilling rig.
The firm, created by the merger of Ensco and Rowan earlier this year, posted a pre-tax loss of £151.2million for the third quarter of the year, compared to a profit of £340m in Q2.
It comes as it recognised a £68m impairment charge for the Valaris 5006 which has been classified as held-for-sale and is expected to be retired from the global drilling fleet.
Revenues dropped from £451m to £425m as fleet utilisation dipped, along with average day rates for the fleet.
Valaris benefited from "other income" of £460m in Q2 in relation to the Ensco-Rowan merger, but that segment dropped to just £31m in Q3.
The deal to amalgamate the two drilling companies was completed in April, forming the largest rig operator in the world by fleet size.
Chief executive Tom Burke said there has been success in the six months since, with the integration going "extremely well".
Valaris is aiming to make annual synergies of £127m from the combination, having so far reached around £88.7 this year.
Earlier this month the company also confirmed a number of global contract awards and extensions worth almost £200m, including work for Neptune Energy's Seagull project in the North Sea.
Mr Burke said: "Since closing our merger six months ago, we have focused a considerable amount of attention on executing our detailed integration plan, including our commitment to deliver annual synergies of $165 million from the combination.
"I am pleased to report that integration is going extremely well and annual run rate synergies were ahead of schedule having reached approximately $115 million by the end of the third quarter.
"Over the past three months, we have added approximately $415 million to our contracted revenue backlog, reflecting the success of our team's efforts to win work for our rig fleet despite challenging market conditions.
"These contract awards and extensions also demonstrate the recent increase in customer activity for future offshore projects, particularly for deepwater work beginning in mid-2020 and beyond."
Recommended for you

Profits and day rates on the rise as Valaris looks to 'sustained upcycle'