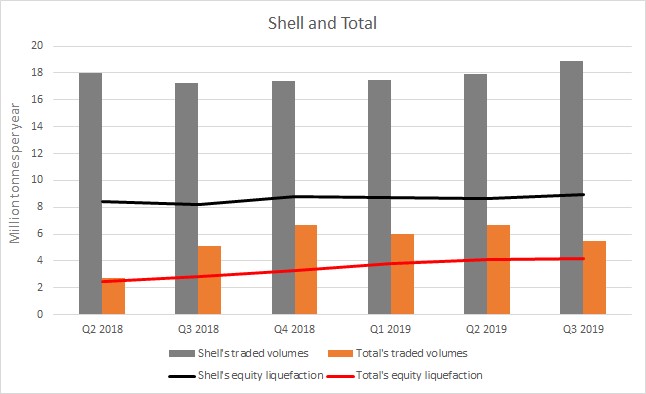 While low LNG spot prices have taken their toll, the Europe's two major players in the sector, Total and Shell, performed strongly in the third quarter.
Total's gas segment had a strong third quarter, with cash flow in integrated gas, renewables and power (iGRP) up nearly $1 billion in the year to date, the company's chairman and CEO Patrick Pouyanne said. Adjusted net operating income for the segment was $574 million, versus $429mn in the second quarter.
It benefited from starts at Russia's Yamal LNG, Australia's Ichthys LNG and the US' Cameron LNG. The company has more large-scale LNG plans in the pipeline, deciding to proceed with the Arctic LNG 2 project in September and acquiring Anadarko Petroleum's stake in Mozambique LNG.
LNG production reached 4.2mn tonnes for Total during the quarter, up 50% year on year. The fourth train at Yamal LNG is expected to add more production, plus the second and third trains at Cameron LNG, for the company in 2020.
Shell's integrated gas sector accounted for $2.7 billion, the company said, representing the largest share in its earnings. This outstripped the $1.7bn in the second quarter of this year and the third quarter of 2018, at $2.3bn. This covers the company's LNG production, gas-to-liquids (GTL) sales and LNG trading.
A note from Bernstein Research's Oswald Clint described the third quarter result as "truly impressive". The company's trading ability is a "key bull point" for the company, given its strong footprint in the area. "We are convinced this is an area the market has not deeply assessed and is where we see real value upside in the stock," Clint continued.
The company produced 8.95mn tonnes in the third quarter, up 9% on the year. Sales in the third quarter were 18.9mn tonnes, which was also up 9%. Liquefaction volumes in the fourth quarter are expected to be 8.8-9.4mn tonnes.
Shell's integrated gas production was up 4% versus the third quarter in 2018, driven by new fields in Australia and Trinidad and Tobago. Liquefaction volumes specifically increased by 9% year on year. The company noted the ramping up of Prelude, the floating LNG (FLNG) project offshore Australia, as the main driver behind its increase.
Higher volumes and improved trading were partly offset by lower prices. The company's global realised gas price reached $4.19 per 1,000 cubic feet.
Shell's CFO Jessica Uhl, in comments last week, repeated the company's projection that LNG demand would grow at 4% per year. Supporting this outlook, she noted there was "continued interest in long-term contracts from LNG buyers", citing the example of a recent agreement to supply Hong Kong's first terminal. "This secures a new market in Asia. You can see why we believe in LNG as a fuel and as a strong business and why we are committed to continue investing in our LNG portfolio to grow cash and returns."
The company sold 71 million tonnes of LNG in 2018, accounting for 22% of the world's total volumes. Most of this, 58 million tonnes, is sold on long-term deals. This typically sees prices linked to oil with a three or six-month lag. During the first three quarters, Shell sold 54.4mn tonnes, suggesting the total sales this year will be largely in line with 2018's volumes.
"Not only do we expect growing demand, we also see a supply gap emerging in the mid-2020s, once the current wave of new liquefaction capacity has been absorbed," Uhl said.
A more nuanced perspective was put forward in BP's conference call, with the company's CFO Brian Gilvary predicting gas prices would "remain pretty suppressed, certainly out to 2021". The executive went on to predict that, given low prices in Europe, exports of US LNG would likely falter.
"You will see some gas exports out of the United States but I don't think it will be anywhere near the capacity of what's been built," Gilvary predicted. Bearish gas markets will begin to move back more positively in 2021, he said, and "I think you will start to get into a more buoyant market as we get out to 2022". BP expects to bring its Tortue LNG project, offshore Mauritania and Senegal, into production that year and is serving as the sole offtaker from the facility.
Recommended for you

Subsea7 wins decom work for Shell's Flu FPSO