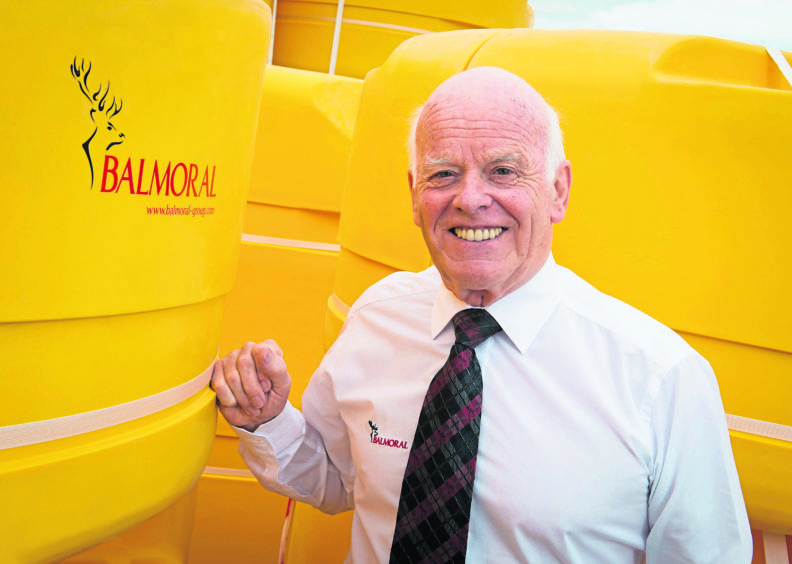 Balmoral Group Holdings reported a "mixed year" as it posted its first loss since 2007.
In accounts for the year ending March 31 2019 The firm said its "core business" turnover rose by 14% to £98.5 million and recorded a pre-tax profit of £2m.
But while the group's core business grew, the performance of Seaproof Solutions, a Norwegian company acquired in 2018, proved "disappointing" and resulted in the business being closed in August.
A provision of £7.5m against the investment was made which, along with trading losses of £2.6m at Seaproof, resulted in Balmoral recording an overall loss of £8.5m.
This is the first negative return the company has posted since 2007.
But the company said the current financial year began with its strongest order backlog for five years.
Jim Milne, chairman and managing director of Balmoral Group, said: "Sadly, Seaproof Solutions had been operating at a loss for some time and the business became unsustainable this year.
"It wasn't an easy decision to make as many people at both Seaproof and Balmoral worked hard to strengthen its position.
"However, it is vital that the group remains strong, resilient and agile in a highly challenging commercial environment and we remain committed to the renewables market with the ongoing development of a range of cable protection systems and associated products for the sector."
The group exported approximately 73% of all manufactured goods during the period while staff numbers jumped to 626 from 468. The firm's offshore related business, Balmoral Comtec, saw margins come under pressure as the cost of raw materials rose resulting in a fall in profitability.
However, the division has seen a rise in the number of tenders being submitted and is confident that it will grow by at least 25% in the current year.
Balmoral Tanks dented by Brexit but sees success in export market
The firm said Brexit has influenced the UK construction sector which impacted Balmoral Tanks.
However, the subsidiary is pushing on in the export market with success in the Middle and Far East, and South America.
The group also said it invested £10 million in expanding its South Yorkshire tank manufacturing plant to house the company's new glass fused to steel (GFS) tank product line.
Allan Joyce, managing director of Balmoral Tanks, said: "This opens up a £200m global anaerobic digestion market that's being driven by the green energy revolution."
The group's property arm, Balmoral Park, doubled the size of its serviced offices and, working with Elevator on the @balmoralHUB, has seen occupancy rates rise to expected levels.
Further to an initial £10m investment in ACE Winches in 2017, Balmoral made a second seven-figure investment this year to strengthen the company's equipment fleet to meet increasing global demand.
Bill Main, group financial director and non-executive director at ACE, said: "We see significant opportunities for ACE Winches, both in the traditional oil and gas market and the developing offshore wind market, and are confident that the company has further growth potential."
Just last week, Balmoral announced an investment in Laurencekirk company, Blaze Manufacturing Solutions Ltd, taking a 70% stake in it with a view to helping the company grow its fire suppression equipment business.
Although Mr Milne admits it was a tough year, he concluded: "We have overcome the challenges faced, turned them into opportunities and are back on track for profitable growth this year."