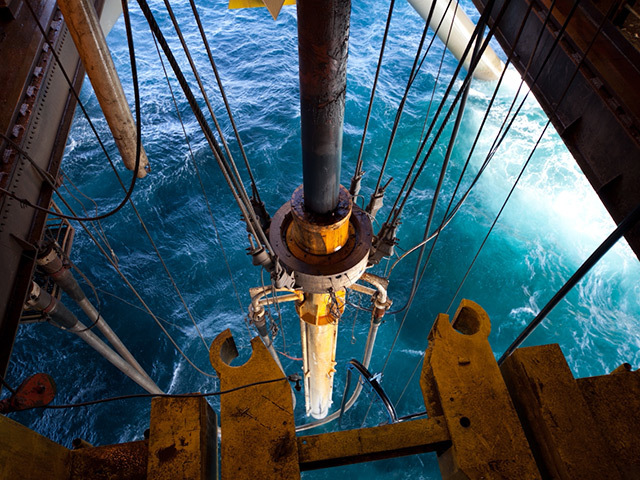 Hurricane Energy's exploration adventure offshore UK is the most exciting of them all, in my view.
But because two of the three horizontal exploration wells on the Lincoln and Warwick prospects didn't deliver the dream ticket, hopes of identifying a second production focal point on Hurricane's Atlantic acreage in 2019 didn't fully work out.
It doesn't mean the Greater Warwick Area (GWA), which contains Warwick and Lincoln, won't make the grade commercially with further work. However, trying to crack its code is clearly proving harder than on nearby Lancaster, which now hosts a
successful early production trial.
Hurricane chief executive Robert Trice said: "The whole purpose was to determine what kind of oil was present on Lincoln and Warwick.
"In 2016 we drilled the Lincoln discovery well. That well was intentionally not tested because the geo-data we acquired gave us confidence there was a deep oil column and that it was most likely light oil.
"So what we needed to do was confirm that we had light oil on Lincoln and/or Warwick, then demonstrate the commercial potential of the fracture system. Hence the 2019 GWA campaign.
"First we drilled Warwick Deep. It was the first ever exploration well drilled on that structure and it didn't come in as expected.
"When we tested the well, it produced predominantly water, though we did get an oil sample to surface. It was formation oil and not something injected into the well during our lifting operations.
"We think further testing will demonstrate that it is exactly the same oil type that we've flowed from Lincoln.
"It was the deepest well planned for the year and it was the first test of the deep fracture system.
"There is oil at that depth because we've brought it to surface. But the fracture system didn't behave anything like what we've experienced at Lancaster with horizontal testing."
Hurricane reckons the drill-bit penetrated a poorly connected part of the fracture system. But the company won't have that confirmed until it has analysed all three of the wells drilled last year.
"We've undertaken a lot of reprocessing of that seismic and we basically need to correlate all of this information together before we get a clear understanding of what's going on," said Mr Trice.
"From an operational point of view, it was a success in that we brought oil to surface, but from a commercial perspective it wasn't. Instead of suspending the well we have plugged and abandoned Warwick Deep.
"We previously considered that the Warwick Deep well or Lincoln Crestal well were potential candidates for tying back to the Aoka Mizu vessel for long-term testing. But the results demonstrated that Warwick Deep is not that candidate."
Moving on to Lincoln Crestal, the lowest risk of the 2019 programme, because it was in the same block and structure as the Lincoln discovery well.
It encountered oil and flowed at 9,800 barrels with electric submersible pump assist.
The productivity index (PI) of 18-20 was lower than on Lancaster but still commensurate with commercially productive fields in the North Sea.
This well is currently suspended pending review of Lincoln Crestal as a future potential tie-back to the Aoka Mizu, though that now seems to be on hold, at least in the near term, because of the Warwick Deep and West results.
Turning to Warwick West, testing saw the well flow for 85 hours in a number of flowing periods at variable rates, using both an electric submersible pump and under natural flow.
However, while controlled natural flow conditions achieved a stable rate of 1,300 barrels of oil per day, a stable rate could not be reliably measured while using a pump as the well was still in the process of cleaning up.
EV understands the well had not in fact been cleaned up prior to P&A, though clean-up operations during the drill-stem test were widely reported. If indeed the well wasn't cleaned up, this suggests that hydrocarbon flows would have been greater had this been carried out.
The Warwick West results disappointed the London stock market and Hurricane was hammered.
Doubtless the result also cast a shadow of gloom over 50% GWA stakeholder Spirit Energy, which majority-owner Centrica is currently trying to sell.
Mr Trice said in an RNS statement following the Warwick West test: "The impact that this well will have on how the company views the GWA accumulation and its associated volumetrics will require further technical analysis. The GWA joint venture is now assessing the optimal appraisal strategy for the GWA, and Hurricane will provide an update in due course."
So not a write-off. Far from it as oil was found and flowed at Warwick West. EV understands that the well would have been tested anyway, even if only water had been found. Building a picture of aquifer pressure and water characteristics would have been a useful exercise in itself.
The results of the 2019 campaign will undoubtedly have an impact on how Hurricane moves forward in terms of any potential tie-back of Lincoln Crestal to Aoka Mizu.
The GWA campaign is best described as a qualified success with many questions still to answer regarding the target reservoirs and how it jigsaws into the overall basement resources equation.
"Let's put this in context," said Mr Trice. "We've just drilled three wells on a previously untested basement structure and oil has been successfully brought to surface with each.
"We've seen some things that we hadn't anticipated and, before we start making pronouncements about whether those differences are good, bad or indifferent, we need to thoroughly analyse the results. And maybe we hit the proverbial wire with Warwick Deep, but then again maybe not. We'll see.
"Which other company drilled three holes in a new play on the UKCS during 2020? None. Overall, Hurricane has drilled more than 10 wells into basement West of Shetland so far."
Turning to the 2020 programme, and because the company has been able to secure an extension to its P1368 permit, which includes P1368 (Central) Lancaster and P1368 (South) Lincoln, the focus will be on delivering commitment well obligations.
Core to the 2020 campaign is the drilling of one or more sub-vertical wells to determine the maximum vertical extent of the Lincoln field.
At a minimum, the intention is to confirm the mid case oil water contact at 2,200m TVDSS with drilling not expected to start until the middle of the year.
For obvious reasons, there are currently no further plans to drill any additional horizontal producers on the GWA, at least this year.
That means a semi-idle rig unless alternative uses can be agreed, in particular accelerating drilling on the Lancaster field with a view to reinforcing production and paving the way towards full-field development.
With this in mind, on December 13, Hurricane said it was in talks with Spirit for the potential use of the already hired Transocean Paul B Lloyd Junior rig to accelerate the drilling of a third horizontal production well on Lancaster.
This would achieve two things: the rig spends less time idle and a successful well would, subject to OGA approval, be rapidly prepped as a tie-back to Aoka Mizu with first commercial oil expected before the end of 2021.
Mr Trice reported that Hurricane and Spirit were continuing to develop a 2020 GWA programme, disappointments and the Spirit sale notwithstanding.
Turning to the Lancaster production trial, results thus far have been good with better than anticipated output and minimal water-cut.
However, Mr Trice is holding to the opinion that Hurricane will need six months to a year's-worth of constant production from the early production system aboard Aoka Mizu before the company is sufficiently confident that Lancaster is a solid candidate for full-field development.
But what does constant production currently mean?
Mr Trice said: "We've been playing around with the two production wells we currently have – turning them on, turning them off, doing interference data, all sorts of clever things.
"So far we haven't found anything to make us change our opinion of the Lancaster reservoir."
Production since September 20 has averaged about 12,500 barrels of oil per day, exceeding guidance for the latest calendar quarter of 11,000bpd.
Combined production for the year ahead is estimated to be 20,000bpd before downtime.
The heels of the two wells are only 350m apart and drawing from a small portion of the reservoir.
Data indicates immediate and strong pressure communication between the wells, suggesting that together they act as a single well.
Also, it is thought that only 50-60 metres of each 1km wellbore is contributing to production.
In mid-December, one well was being naturally flowed successfully at 14,700bpd with minimal water cut. This individual test will run until late January.
Prior to that and again in a solus test and without pump assist, the other well flowed at about 9,400bpd with a stable water cut within a range of between 25-30%.
Contrast this with the 8% water cut reported mid-year and described as possibly being "perched" water, that is from a localised pocket rather than early breakthrough of aquifer water.
Encouragingly, for both wells, bottom-hole pressure has shown minimal decline following an initial stabilisation period, which is good news.
Thus far the production ship has lived up to expectations both in terms of the process package and the Aoka Mizu's ability to live in the highly volatile Eastern Atlantic environment.
By the time this appears in print, the vessel will have handled around 3.5 million barrels of light, sweet, highly marketable crude.
More of the same can be expected this year, but spiced with the prospect of preparations for a third production well getting under way with a view to being brought on stream in 2021.
Recommended for you

Hurricane to carry out planned shutdown of Lancaster following latest cargo lift